Title:
PCT Cartuja launches #eCitySevilla initiative
First image: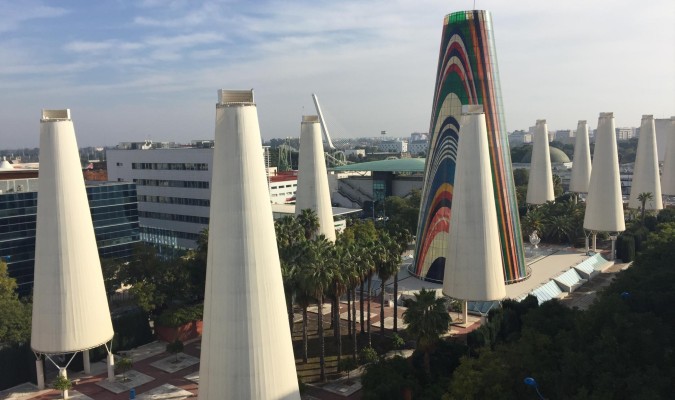 Text:
PCT Cartuja (Spain) joined forces with regional and local authorities and energy company Endesa to launch the start of the #eCitySevilla sustainability project, in a recent event attended by several hundred people.
#eCitySevilla is an initiative to develop a sustainable, carbon-free digital ecosystem in Isla de la Cartuja, site of Seville's Expo 92 and home to IASP member PCT Cartuja. Groups of specialists, including many of PCT Cartuja's 500 resident companies, will work to develop strategies around the 4 key areas of the project: energy, the built environment, sustainable mobility and digitalisation.
This public private collaboration aims to put Seville on the world stage for innovation, entrepreneurship and sustainability, reduce carbon emissions, and contribute to the fight against climate change as part of the new 2030 European Green Deal. It will also demonstrate how science parks and innovation ecosystems can lead the way in sustainable urban development, while creating opportunities for their academics, researchers, startups and entrepreneurs to provide innovative solutions.
Luis Perez, CEO of PCT Cartuja, commented: "The #eCitySevilla initiative will transform this space into Europe's biggest urban lab for sustainability and energy efficiency. It is the most radical project PCT Cartuja has undertaken since its foundation."
The mobility project will see an increase in pedestrian zones on the Isla de Cartuja, more shared and carbon-free vehicles, and the creation of an open data smart platform to manage resources and services. New parking zones will leave cars on the perimeter with emission-free shuttles taking commuters and passengers into the new Green Zone. In collaboration with Endesa, the site's electricity network will integrate the energy produced by solar panels, creating a distributed smart network that is 100% renewable.
Buildings in the science park will be audited for energy efficiency before installing smart systems to interact with the rest of the connected energy ecosystem, while the digital strand of the project will see the creation of a open platform to manage the resources and services of PCT Cartuja.
By 2025, the Isla de Cartuja site will boast 100% renewable energy, energy-efficient buildings, and a network of charging points for electric vehicles, all connected through an autonomous digital Smart Grid.
Our upcoming World Conference IASP Seville is organised by PCT Cartuja and will take place on the Isla de Cartuja site – why not join us there from 6-9 October 2020 to see their #eCitySevilla smart sustainability plan in action!