Title:
QSTP hosts Arab Innovation Academy
First image: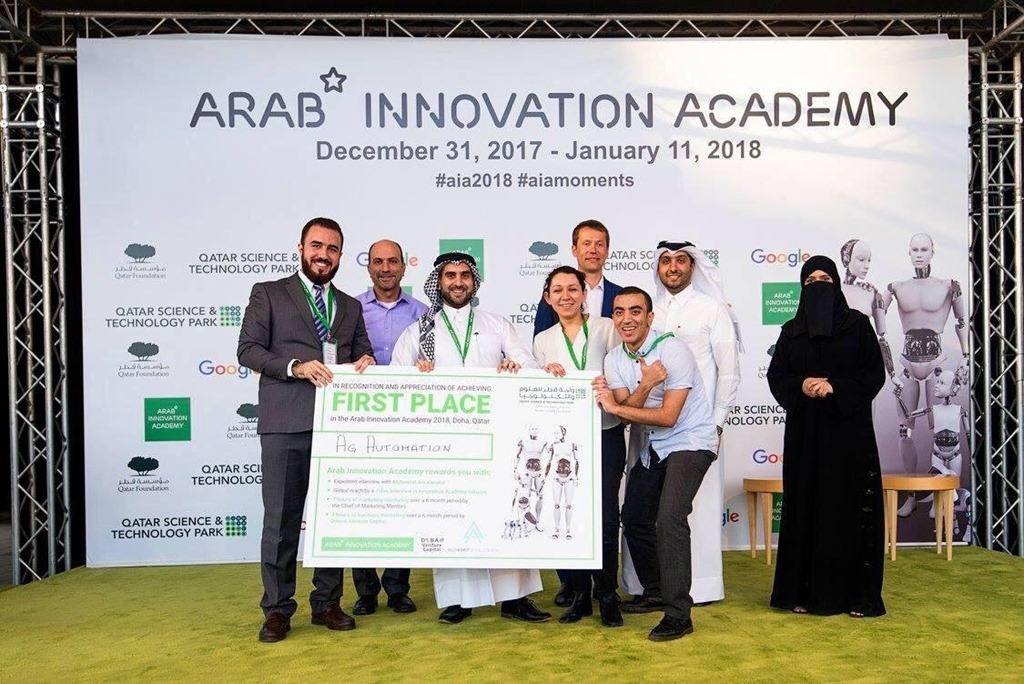 Text:
Some 150 young entrepreneurs and innovators from across Qatar and the region participated in the first edition of Arab Innovation Academy (AIA), an initiative by IASP members Qatar Science and Technology Park (QSTP).
The AIA is a collaboration between QSTP and the European Innovation Academy (EIA), a non-profit educational institution recognised for excellence in tech entrepreneurship. It aims to provide future entrepreneurs with an opportunity to work under the guidance of leading Silicon Valley mentors and establish a start-up in just 10 days.
Dr Hamad Al Ibrahim, Executive Vice-President of R&D at the Qatar Foundation, said: "The Arab Innovation Academy is a hugely important pan-Arab initiative aimed at supporting young tech entrepreneurs currently striving to get a foothold in the start-up arena. The outcomes of this pioneering program will actively contribute to the diversification of the regional economy and the sustainable success of the entrepreneurship ecosystem in the area."
"We are delighted to welcome such a diverse cohort of young entrepreneurs to this inaugural AIA program, representing the pan-Arab tech landscape. This dynamic innovation training has been specifically designed to foster an entrepreneurial mind-set among the region's youth and to provide a solid foundation for them to successfully launch a start-up," said Dr Hakim, Executive Director of QSTP.
The two-week innovation program received applications from 68 students from top universities in Qatar, along with 142 students from regional universities in countries including Algeria, Palestine, Lebanon, Oman, Morocco, Tunisia, Turkey, and Kuwait.
"The people at QSTP have been an essential part of our programs in Europe. They have provided input in order to develop a carefully tailored methodology. The first edition of the AIA program is just the beginning of our common goal to nurture local tech ecosystems and contribute to the sustainability and diversification of Qatar's economy. By serving as an advocate of the AIA program across the region, QSTP is a future-orientated champion," said Alar Kolk, President of EIA.
Participants were introduced to an accelerated mode of experiential learning, including how to develop and launch new tech ventures in a real marketplace with genuine customer feedback. Throughout the two-week program, participants leveraged an extensive global network comprising top experts in the field of tech entrepreneurship, who introduced them to cutting-edge research methods developed by leading universities and companies, including University of California, Berkeley; Stanford University; Google; and Amadeus IT Group. The academy also hosted international mentors, speakers, and investors, including those from Silicon Valley.