Title:
Reflecting on the role of innovation ecosystems under COVID-19
First image: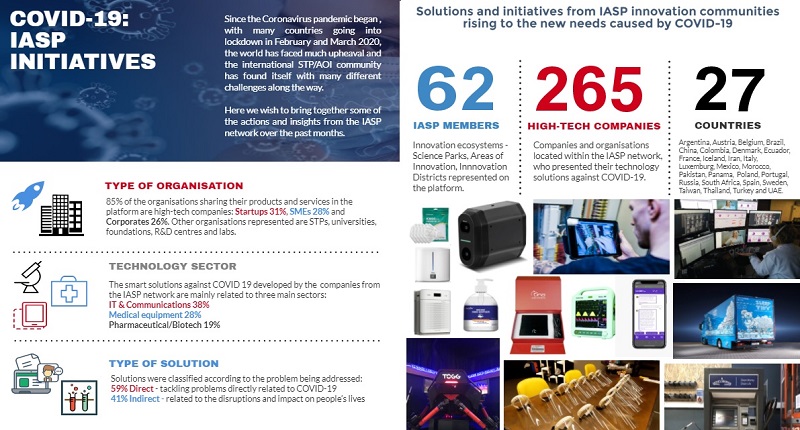 Text:
Since the COVID-19 pandemic began early in 2020 the world has faced much upheaval, and science parks & areas of innovation internationally have found new and innovative ways to support their companies, cities and communities.
IASP has put together an overview of the many different ways in which our members globally joined the fight against the pandemic and the disruption it has caused to our daily lives.
Click here to view the infographic
265 high-tech companies from 62 member AOIs/STPs in 27 different countries shared their solutions and initiatives with IASP on our COVID 19 showcase page, with 31% coming from startups and 28% from SMEs. These consisted mainly of IT solutions, medical equipment & pharmaceuticals and biotech.
Innovation ecosystem managers from 28 countries also joined our online discussion groups in May and June, where they shared their experiences concerning new uses of space, supporting their resident companies and communities, digitalisation, and the importance of clear communication in uncertain times. Common themes to emerge worldwide were how clear, calm leadership can reassure tenants, and staying connected and engaged with them to maintain trust was fundamental.
COVID-19 impact chats explored some of the key issues in more detail, where STP/AOI managers shared their insights on innovation ecosystems under the pandemic with an audience of over 200 innovation actors from 55 different countries. IASP members can watch the recordings of these webinars in our video repository.
We feature several updates from IASP members in this month's newsletter: carry on reading to find out how Utrecht Science Park (the Netherlands) is using mobility solutions tp bring companies and students back on site safely; how Ann Arbor SPARK (USA) went virtual to showcase their tech community; lifesaving partnerships at Tecnopuc (Brazil); and a new anchor tenant and a pharma plant opening at Kalibr Technopark and Technopolis Moscow (Russia).