Title:
Ann Arbor SPARK showcases tech community
First image: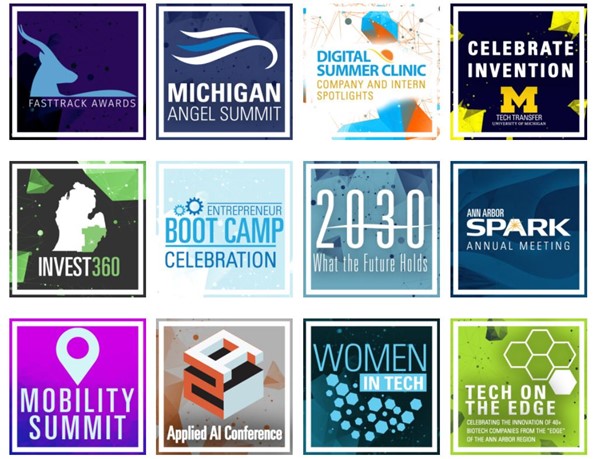 Text:
Ann Arbor SPARK recently held its online a2Tech360 programme, featuring seven days of 16 events showcasing innovation in the Ann Arbor area.
The a2Tech360 programme is a series of tech-related events connecting key community actors who enrich the Ann Arbor region — innovators, researchers, investors, businesses, academic institutions, non-profits, job seekers, and the general public. It included a mobility summit, entrepreneur bootcamp, FastTrack awards to high-growth 'gazelle' companies, and an open door event with the city's tech community, where more than 50 companies used video storytelling to showcase their offices and innovations.
It also included SPARK's annual meeting which detailed SPARK's COVID-related efforts to support businesses throughout the region, distributing funds from the state of Michigan, Washtenaw County, and various foundations and private individuals. This included over $11 million awarded to almost 1600 companies from regional small business relief funds.
In 2019, Ann Arbor SPARK participated in 31 company growth projects that generated $132 million in new investment commitments, 534 new jobs, and nearly 1,200 retained jobs. It also provided assistance via services and grants to 262 startups, including 86 early stage companies housed at the SPARK Central Innovation Center, and at SPARK East in Ypsilanti. More than $1 million was invested in 11 early stage companies through the Michigan Angel Fund, which is administered by Ann Arbor SPARK.
Paul Krutko, Ann Arbor SPARK president & CEO and IASP Chairman said: "Every year the Ann Arbor SPARK's annual meeting is an important community event celebrating the collective successes of our private, public and academic regional economic development partnership," says Krutko. "We were determined to hold this meeting virtually and had more stakeholders and community members register than ever before to hear our report on what the partnership has achieved in 2019 in terms of investment, jobs and company formation and growth.
"SPARK's work in attracting, retaining, and growing businesses that sell products and services to national and global markets has built and is building the foundation that is necessary for our recovery from today's economic uncertainty as well as our future growth."
SPARK also recognized the most outstanding projects in its two main focus areas; business development of mature companies, and entrepreneurial service support to startups and early stage companies.
MI-HQ received SPARK's Business Development Company of the Year award. In 2019, MI-HQ expanded, adding a new, $2.5-million, 35,000-square-foot building on its campus.
May Mobility was recognized as the Entrepreneurial Company of the Year. Ann Arbor SPARK worked to attract May Mobility to the region and supported its growth through talent and marketing initiatives as well as a grant to brand their vehicles.
To find out more about Ann Arbor SPARK and how they support the regional innovation ecosystem, visit http://www.annarborusa.org/.