Title:
Registration now open for IASP Virtual!
First image: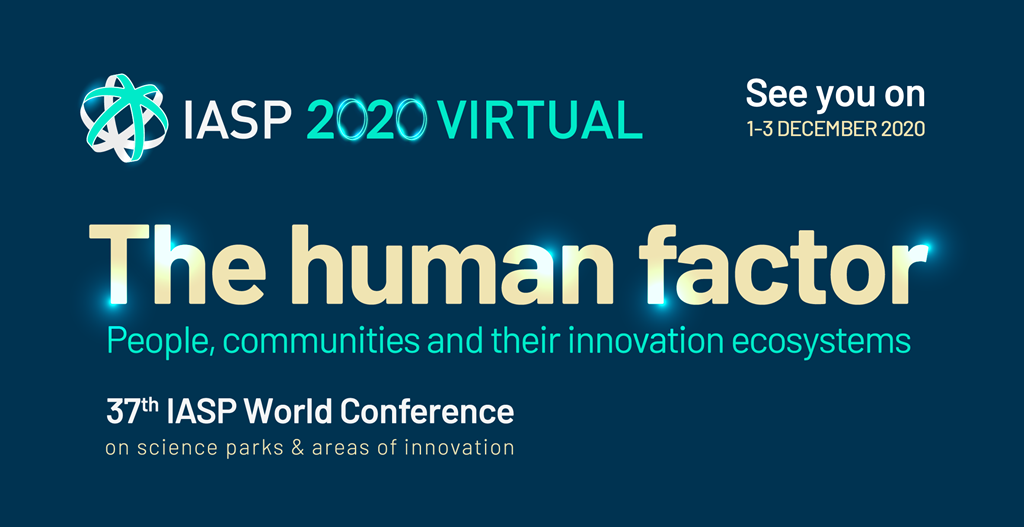 Text:
We are delighted to announce that registration is now open for IASP 2020 Virtual, our online World Conference taking place from 1-3 December!
Go to www.iasp2020virtual.com to register and be part of the global conversation taking place over three days around the theme "The Human Factor: people, communities and their innovation ecosystems".
Join us online to explore today's key topics and to explore how science parks and areas of innovation worldwide continue to support their companies and communities during the pandemic. You can also connect with your global peers with networking activities to help you get talking: our schedule covers different time zones so that as many global participants as possible can easily join us. And in case you can't watch everything live, all content will be available on the platform for registered users for two months after the conference.
With building blocks such as people and talent, the future of work, how we support today's entrepreneurs, company highlights, city engagement and more, the full programme will offer you the practical and theoretical knowledge you need for your innovation ecosystem to excel.
A delegate pack that's a little bit different - plant your tree!
This year, instead of the gifts we all enjoy from in-person events, we're doubling down on our commitment to sustainability and the Sustainable Development Goals by collaborating with Treedom, a web platform for remote tree planting, making the world greener one tree at a time. As well as access to the full programme, your conference registration fee includes an individual tree which will form part of our very own IASP Forest, planted and created thanks to IASP virtual delegates.
The trees are planted in agroforestry projects that promote virtuous interaction among different species and sustainable use of resources and land. There are social benefits too: rural communities involved in the projects receive training and financial support, and they are the ones who take care of the trees and enjoy their fruits.
Register now at www.iasp2020virtual.com and keep an eye out for details of the programme – coming soon!