Title:
Ultra fast electric vehicle charge points at NETPark
First image: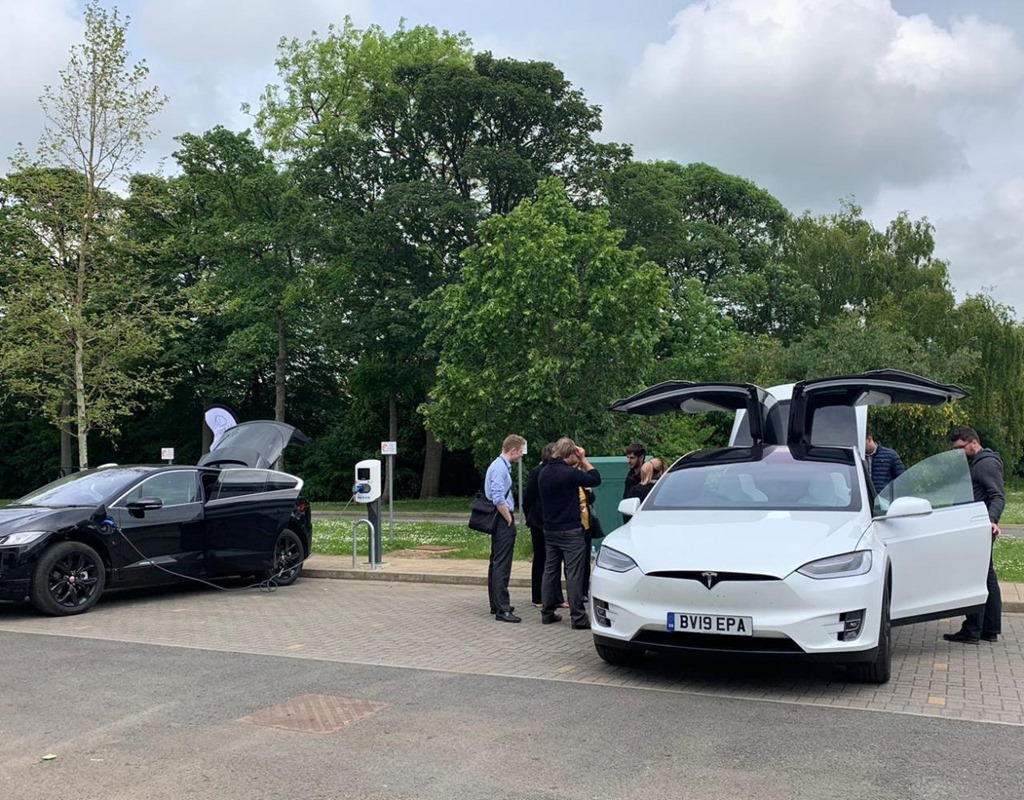 Text:
The North East Technology Park (NETPark), in the UK, has launched two new dual fast chargers for staff and visitors of the park to charge their electric vehicles (EVs).
Working with Elmtronics, an independent supplier and installer of EV charging equipment, the Eve 7kW fast chargepoints will allow users to charge their fully electric and plug-in hybrid vehicles. The EV chargepoints, connected to the Hubsta network, allow for four vehicles to charge at any one time and can be accessed via the Hubsta mobile app or fob.
Earlier this year, Durham County Council declared a Climate Change Emergency along with ambitious targets to significantly reduce its own carbon emissions by 60 per cent by 2030. Installing the EV fast chargers is a step towards the county's carbon emissions goal.
The launch of the new charging points was announced at an engagement event at NETPark where Tesla showcased a range of vehicles, allowing locals to test drive some of the most exciting EVs on the market and also test out the new charging facilities.
Lyndsey Hetherington, business development manager at Elmtronics, said: "NETPark required a reliable EV charging solution for their staff, visitors and also businesses based on the park, which was the perfect fit for Elmtronics Eve Smart Charging Stations. The chargepoints offer the ability for NETPark to manage and monitor the charging stations remotely, adding multiple tariffs for usage but also to view crucial data, such as Co2 savings and transaction usage."
Janet Todd, NETPark manager at Business Durham, the economic development arm of Durham County Council, added: "The arrival of the latest Tesla cars heralded the launch of the new facility at NETPark Plexus and was, of course, very well received by a long queue of excited drivers, and passengers, looking to test the power and performance of the latest Tesla models."
Launched in January 2019, the intelligent Hubsta network connects to over 55,000 chargepoints worldwide.The network has enabled over 50,000 charging logs with a saving of 50 tonnes of CO2. This saving alone could be equivalent to an average car being driven for 80.94 days non-stop.
To find out more about what's happening at NETPark, please visit https://www.northeasttechnologypark.com/