Title:
IASP Pre-conference Seminar on Science Parks and Areas of Innovation 2020
Billede: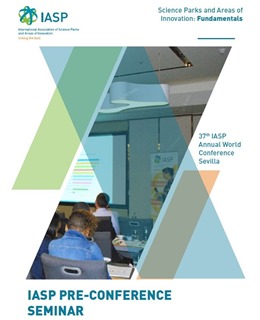 Description:
IASP members, log in to the website to take advantage of your members' discount for this event

The IASP Seminar on the Fundamentals of Science and Technology Parks (STPs) and Areas of Innovation (AOIs) is a customary component of the activities offered during our annual World Conference which this year takes place in Seville, Spain. Please note this is an optional activity with a separate registration fee from the main conference.
The IASP Pre-conference Seminar is organised directly by the IASP Headquarters and is designed to meet the needs of professionals who are appointed to set up a new science park, as well as for those who are new to our industry. The seminar will look at the crucial main concepts in the inception, conceptualisation, planning and management of science parks and other areas of innovation: strategic models, incubation, marketing and communication, services, governance, challenges and opportunities. Full details can be found in the brochure below.
Experienced STP/AOI managers and experts from the IASP network will share their knowledge with you, discuss what worked and what didn't, and answer your questions. Their vast experience will allow you to shorten your learning curve and will give you new insights to help you in your everyday work.
The IASP Pre-conference Seminar is the perfect chance to meet international colleagues facing the same problems and challenges, and for networking in a smaller forum prior to our big event.
IASP Full members: 200€
IASP Affiliate & Associate members: 230€
Non members: 275€