Title:
RECORDING - IASP WEBINAR: "STPs & AOIs: main concepts and strategies"
Billede: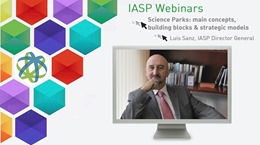 Authors

FullNameWithTitle2:

Luis Sanz

Description:
In this recording, IASP Director General Luis Sanz introduces the fundamentals of science parks and various models and management strategies in a webinar specially aimed at newcomers to the industry.
IASP members, log in to purchase this webinar for the special price of 40€!



Choosing the right model and strategy is crucial for the success of all areas of innovation, science parks included. This implies being asked to answer a simple question: why are you doing this? Why are you building or have you built an STP/AOI? This webinar guides attendees through the answers, and introduces the fundamentals of science parks and their building blocks and strategies.