Bromont Science Park
Background information
Located in the heart of a region known for its strategic geographical position in Quebec and Canada known as the Microelectronics Northeast Corridor, the Bromont Science Park develops and promotes the town of Bromont by fostering the establishment of high-tech industries dedicated to research and innovation, specialising in the microelectronics and advanced manufacturing sectors.
The Bromont Science Park was established to encourage the grouping of companies working in high-technology sectors committed to research and innovation, by supporting their establishment and their development in microelectronic, aerospace and advanced manufacturing niches. It is home to key players in the design and construction of semiconductors, hybrid and integrated circuits, connectors and electronic modules, including IBM, GE Aviation and Teledyne Dalsa, the most important Canadian semiconductor foundry.
With over high tech 4,000 jobs, Bromont's infrastructure includes a university advanced microelectronics research centre; a robotics research centre for the aviation sector; a nanotechnology research centre; and a microchip quality analysis research centre, as well as an industrial incubator. Satellite site Pacifique Park is geared towards the manufacturing and construction sectors.
Two advanced manufacturing processes stand out among the Bromont Science Park enterprises: Advanced Robotics, which consists of executing tasks in a semi-structured environment by reducing the number of human interventions, and Additive Manufacturing, which allows building objects using the data provided by 3D models.
Aerospace is another key sector for the Quebec region, with GE Aviation and its robotics, automation and instrumentation research and development centre located in the Bromont Science Park where it focuses on vanes, engine components and aircraft doors building expertise. The regional airport is located inside the Bromont Science Park, creating an alliance for the aircraft services sector and many companies have acquired the MACH certification.
Logo: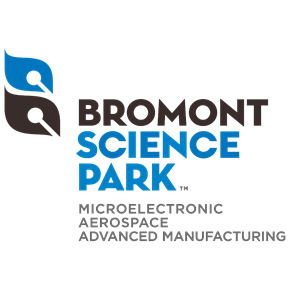 Main technology sectors

Name:

Manufacturing and Automation Technologies

Name:

Micromachines and Nanotechnology

Name:

Semiconductor Science and Technology