Parque Metrópole
Background information
Founded in 2017, the Parque Tecnológico Metrópole Digital is an initiative of the Federal University of Rio Grande do Norte (UFRN) through the Metrópole Digital Institute (IMD), with the support of SEBRAE and the Municipality of Natal, and is based in Lagoa Nova, Natal
As a lever for economic, social and human development in the state of Rio Grande do Norte, especially in the city of Natal, the park encourages, supports and develops activities related to science, technology, entrepreneurship and innovation, promoting synergy between academia, government, society and information technology companies.
Services for resident companies include consultancy, advisory and technical support, advice and strategies for business growth, training, support establishing strategic partnerships, and encouraging contact between enterprises and institutions that foster innovative entrepreneurship in order to raise financial resources for investment.
Parque Tecnológico Metrópole Digital also offers classrooms, meeting rooms, coworking, premises for the operation of the corporate headquarters, and auditoriums, as well as the Information Technology Research and Innovation Center (nPITI), the Multi-User Bioinformatics Center (CBM) at IMD / UFRN; and access to the technological infrastructure of IMD / UFRN (data center services; internet; laboratories). The park also operates an incubator to support business creation, and offers and advantageous tax regime for resident companies.
With a focus on the ICT sector, the park offers specialist training courses in IoT, Big Data and software solutions for mobile devices.
Logo: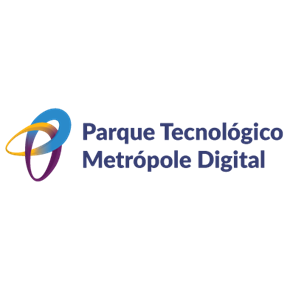 Main technology sectors

Name:

ICT & Communications