Heading:
TechnoMagicLand – A Territory of Curious Minds at Sofia Tech Park
Publication date - real:
07-05-2020
User info - details - for blog detail layout:
First image: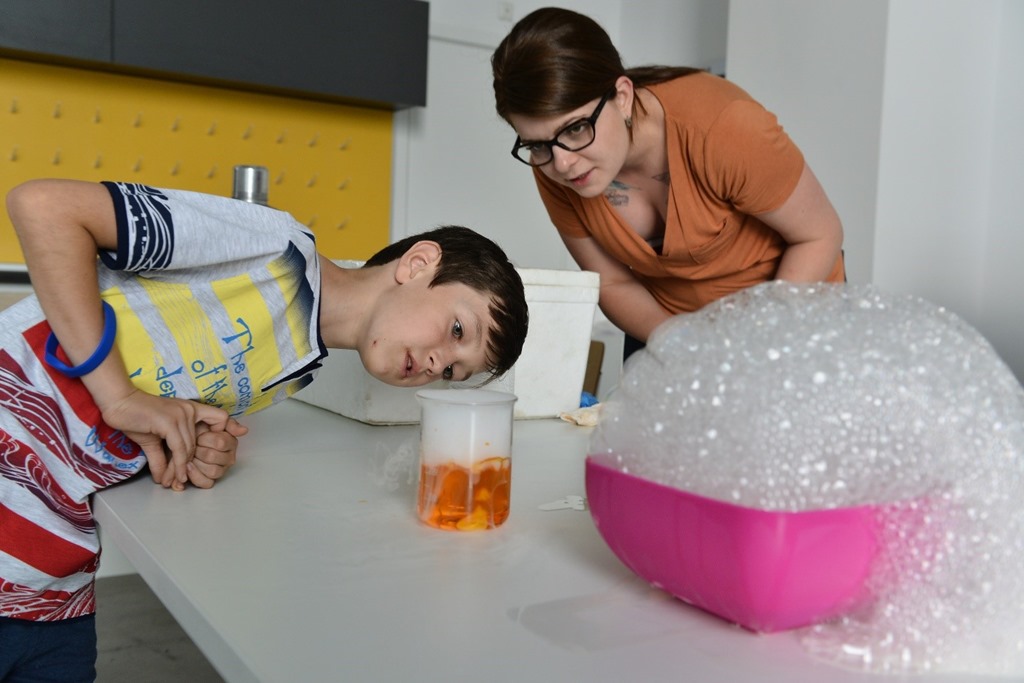 Long text:
TechnoMagicLand is an interactive centre for science and technology in Sofia, Bulgaria, aimed at children aged 7–14. Conceptualized by TechnoLogica, a highly reputable Bulgarian IT company as part of their corporate-social-responsibility project, it is based in the Sofia Tech Park Experimentarium building. Angel Bachvarov, CEO of TechoMagicLand, explains what is so special about it.
Our mission is to make science and technology more accessible and fun. We spark children's interest in STEM topics by encouraging them to take part in the interactive and easily comprehendible hands-on experiments that comprise the TechnoMagicLand experience. Of course, we encourage parents and teachers to join the fun, too! Our motto is "I hear and I forget. I see and I remember. I practice and I understand" and we see it repeated through the visitor's experience.
At the core of the centre is the Exhibition Hall where we display 46 hands-on exhibits from the fields of Maths, Physics, IT, Engineering and the Technologies of the Present and the Future. Visitors are encouraged to explore the exhibition at their own pace. All exhibits are controlled and maintained remotely through a centralised network. We use RFID bands to track visitors' engagement with the experiments and gather statistical data that allows us to measure their progress and satisfaction. This enables the implementation of different routes that introduce elements of gamification and competition in the visitors' experience, as well as a more personalised experience based on their age, background and interests.
Right next to the Exhibition space is the Auditorium where visitors are welcome to attend our regular demonstrations and science shows, presented by skilled science communicators. We boast two multipurpose laboratories that are fully equipped for training courses and workshops in various topics – Chemistry, Physics, AI, and Game Design to name a few. These courses build upon the demonstrations and the experiments and allow children to deepen their knowledge, develop practical skills and improve their creativity.
Here we would like to highlight our course Engineering for Kids. It shows the main stages of engineering work in a fun and interactive way. Life in the 21st century is unimaginable without engineers, and the kids use science research to build high-tech gadgets and develop new and advanced technology. Unfortunately, many children have limited access to hands-on learning outside of the school curriculum. In the course, children build a conception and functional structure, create a design, run a simulation for verification and materialization of functional prototypes. Sometimes, instead of the usual FDM materials for the prototypes, children use real chocolate.
The right software tools are of great importance to the training course. Due to that we chose and mastered SolidWorks apps for Kids. They offer a vast variety of capabilities and functionalities into introducing the basics of 3D design.
The legal form of TechoMagicLand is a non-profit public-private partnership under the Bulgarian Obligations and Contracts Act ("ДЗЗД"). Under а contract of partnership TechnoLogica and Sofia Tech Park which provides the premises in its Experimentarium building agree to unite their activities for achieving the above-mentioned objectives.
TechoMagicLand opened for visitors in June 2018 and is already one of the most important destinations in the informal education ecosystem in Bulgaria, attracting 20,000 visitors as of 15 March 2020.
For more details, you can visit our website at http://www.technomagicland.com or contact Angel Bachvarov, CEO, at abachvarov@technomagicland.com and Alexei Potebnya, Marketing and CRM, at apotebnya@technomagicland.com
There are no comments