Title:
5th IASP Chinese Member Salon held in Chengdu
First image: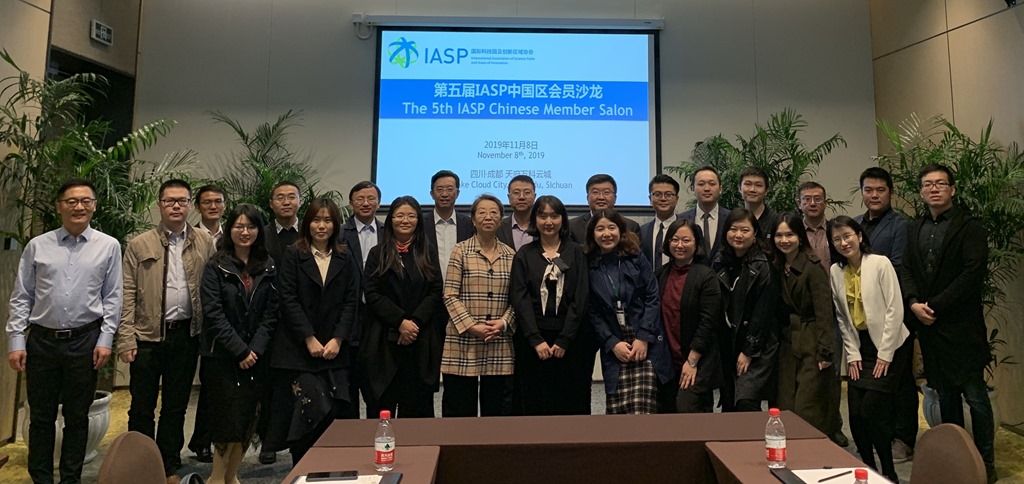 Text:
The IASP China Office recently hosted the 5th IASP Chinese Member Salon in Vanke Cloud City in Chengdu, in an event organized by Vanke Industry Urban Development.
The Salon was attended by representatives from 13 different science parks from across China, including Chongqing, Yunnan, Henan, Guangdong, Jiangsu and Sichuan, and made up of both IASP members and non-members.
During the opening ceremony, IASP CEO Ebba Lund greeted attendees by video, and encouraged Chinese STPs to continue their active participation in IASP's activities, inviting them to the 2020 IASP World Conference in Seville, Spain, to exchange ideas, cooperate, and grow together with international peers.
Hellen Zhang, Senior Adviser of IASP China Office, reflected on the last 20 years of development of the Chinese STP industry, and how constant support from IASP has helped STPs like Zhongguancun Haidian Science Park to internationalise, connect with world-class global peers and learn from them.
IASP member delegates shared their own experiences with internationalization, with Vanke Industry Urban Development (Midwest), Luoyang National University Science Park, Kunming Entrepreneurship and Innovation Federation, Qingyuan Tianan Smart City, Leaguer Group, Tusstar Sichuan Business Incubator and International Youth Innopark comparing their practical experiences, the difficulties they faced and the support and help offered by IASP.
Herbert Chen, IASP Vice President and China Office Director, summed up the discussions at the end of the day, offering advice on internationalization and encouraging Chinese members to take advantage of the online services IASP offers as well as to take the opportunity for face-to-face meetings with their colleagues around the world at IASP events.
Mr Chen commented: "This member salon was committed to providing an occasion for members to communicate, learn from each other and grow together. IASP China Office will continuously provide the platform of exchange and precise high-quality services based on members' needs, so as to link them with better resources."