Title:
Ann Arbor SPARK holds entrepreneur Boot Camp 2020
First image: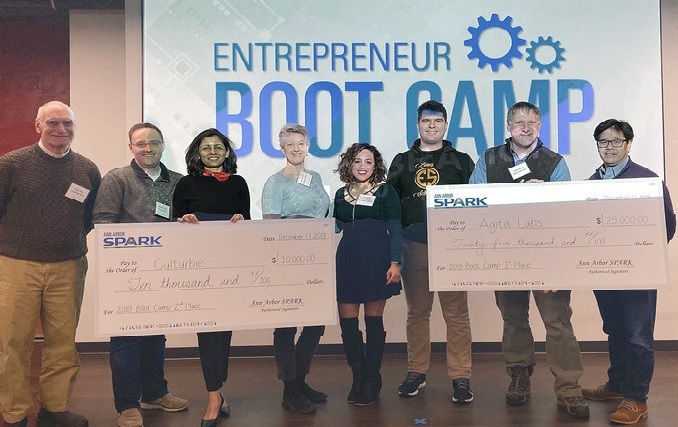 Text:
Ann Arbor SPARK (USA) recently awarded cash prizes to the best of the region's tech startups in their Boot Camp, designed for entrepreneurs who are prepared to assess and validate the feasibility of their business concept, build a business model, and find beta customers.
Participants get hands-on assistance to test ideas over an intense multi-week program, interacting with multiple mentors and early stage investors. At the conclusion of its latest Entrepreneur Boot Camp, Ann Arbor SPARK awarded Agita Labs its $25,000 Best of Boot Camp prize and Culturebie its $10,000 runner up prize. New to Entrepreneur Boot Camp is a third place prize, awarded to Shout, which won desk space at the SPARK Central Innovation Center for three months. The winners were selected by a panel of experts, based on the business's investor pitch.
"Entrepreneur Boot Camp continues to have a positive impact on the quality of startups in the Ann Arbor region's tech ecosystem," said Bill Mayer, Ann Arbor SPARK vice president of entrepreneurial services. "By getting early coaching and mentoring, the on-ramp to success for these fledgling companies is significantly shortened. Boot Camp helps startups establish best practices – from sales to marketing to finding funding to investor pitches - right out of the gate. Entrepreneur Boot Camp is at the heart of why Ann Arbor is able to grow startups from concept to reality to revenue at a rate that outpaces the rest of the state."
The grand prize winner, Agita Labs, is developing the next-generation privacy enhanced computing structures that will facilitate the creation of new data markets while protecting data IP rights and personal information.
"We are incredibly exited to have won the SPARK Entrepreneur Boot Camp," said Todd Austin, CEO, Agita Labs. "The investment prize will be critical in giving us the runway necessary to build out our first funding round. But even more importantly, we are honored to receive this recognition from our peers and mentors."
Runner up Culturebie provides companies with data analysis that solves hard problems in workforce management such as employee, retention, diversity and Inclusion, and productivity. Delivered through a SAAS model, it collects data through surveys, integrates it with in-house HR data, and applies proprietary algorithms to generate real-time actionable insights that allows customers to take timely and precise actions to address workforce challenges.
Shout is a mobile application developed by a recent graduate of the University of Michigan. It makes it fast and easy for constituents to contact local, state, and federal elected officials. The app also features a customizable newsfeed to motivate users to repeatedly "shout" their representatives and a localized "shoutfeed" that enables users to see what policy-oriented conversations are happening in their community.