Title:
Ann Arbor SPARK showcases local innovation
First image: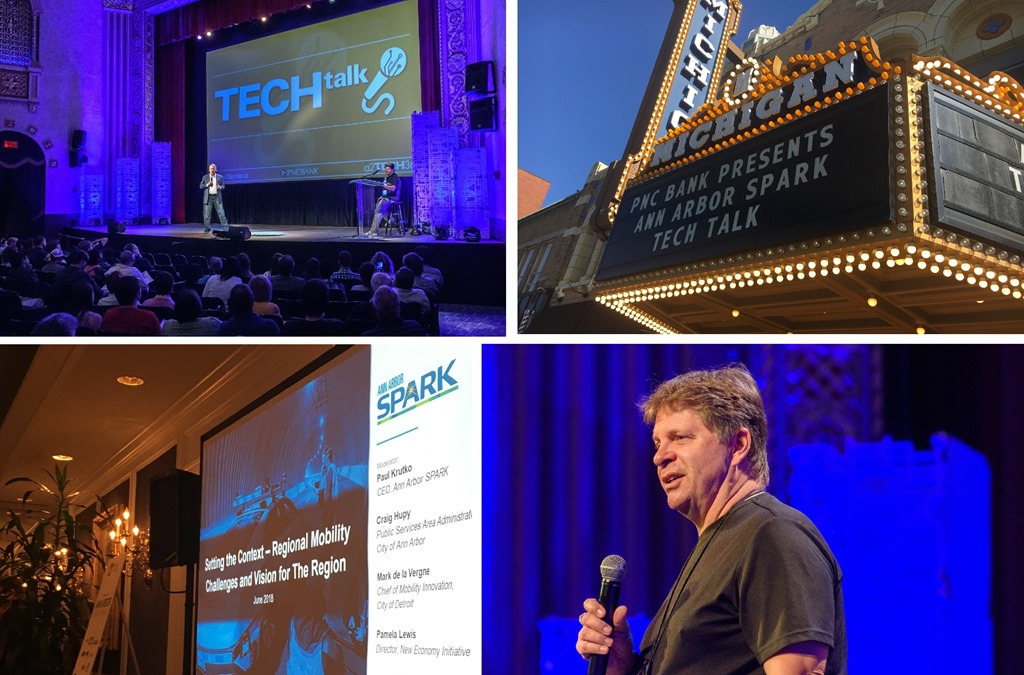 Text:
Under the leadership of CEO and IASP Vice President Paul Krutko, Ann Arbor SPARK area of innovation in Michigan, USA, recently held a celebration of the local innovation ecosystem with its focus on mobility and tech startups.
IASP Chief Operations Officer Ebba Lund travelled to Ann Arbor to attend the week's events and get to know the local startup scene, beginning with a visit to the SPARK Innovation Center, followed by the Mobility Summit and the Tech Trek.
SPARK Innovation Center
At the heart of what Ann Arbor SPARK does to support economic development in the community, the Innovation Center helps startups and early-stage companies through its two business incubators mentoring programs, and a team ready to connect entrepreneurs to the resources they need to succeed. Ebba met with Jonathan Goldstein, Director of Entrepreneurial Services, who led a tour of the facility.
Meeting of the Minds Mobility Summit
The Mobility Summit on June 14th brought together experts in mobility and related technologies focused on positioning Michigan as a leader in the mobility industry. Delegates discussed diverse related themes such as the future of automated vehicles, building a mobility ecosystem and tech solutions to congestion and access challenges.
The Summit included a field trip to the American Center for Mobility (ACM), a testing and product development facility for safe validation of connected and automated vehicle technology. Delegates were offered a behind-the-scenes tour of the private highway track, intersections and custom-built tunnel, as well as demos from SPARK startups who showed off products ranging from technology that collects data on pavement conditions to controls for lighting infrastructure to cybersecurity for autonomous vehicles.
Tech talk and Tech Trek
Opened by Paul Krutko, the Tech Talk is a TED-style event featuring some of Ann Arbor's most interesting and impactful companies, ranging from cyber security to pizza delivery development with self-driving cars. Speakers shared their perspectives about what's going on in Ann Arbor's tech ecosystem and what they predict for the future. This year it was followed by the Tech Trek, a free community event giving visitors and local residents the opportunity to discover the Ann Arbor tech scene that is an integral part of the city fabric.
With over 6000 attendees from 11 countries and over 30 US states, more than 80 leading technology companies opened their doors to a public of all ages. Companies showcased their latest innovations, offering an educational experience reflecting their culture and products. As well as giving young talent from the University of Michigan the chance to explore local career paths, a street closure also allowed Ann Arbor to display some of the latest developments in connected and autonomous vehicle tech in the heart of the city, from self-driving shuttles to leading-edge connected car technology.
For more information about Ann Arbor SPARK, please visit https://annarborusa.org.