Title:
Carbon neutrality on the agenda for IASP members in China
First image: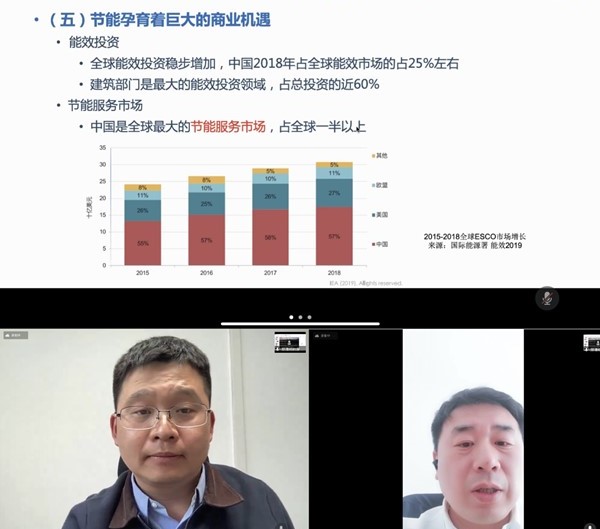 Text:
With support from TusStar, the IASP China Office recently hosted a members' webinar focusing on peak carbon emission and carbon neutrality.
Carbon neutrality means having a balance between emitting carbon and absorbing carbon from the atmosphere in carbon sinks. In order to achieve net zero emissions, all worldwide greenhouse gas emissions will have to be counterbalanced by carbon sequestration – the process of removing carbon oxide from the atmosphere and then storing it. The UN describes achieving carbon neutrality by 2050 as "the world's most urgent mission", and in China, peak carbon emission and carbon neutrality become keywords in the National People's Congress (NPC) and the Chinese People's Political Consultative Conference (CPPCC) this year.
The IASP China Office webinar offered participants from across China the opportunity to hear from Xiaoliang Sun, from the Energy Conservation Service Industry Committee of China Energy Conservation Association, and Qingbiao Xing, Technical Director of Warmland a leading enterprise in the energy-saving industry.
Peak carbon emission and carbon neutrality are top priorities for China in 2021, and the webinar covered key strategies for achieving them, such as energy-saving opportunities in public buildings. Xiaoliang Sun shared information about current trends and new developments in the sector, as well as opportunities energy conservation within China. He also explored domestic and international efforts to address climate change, China's energy performance, and the energy conservation industry, which provided valuable industry information for companies in the sector. Qingbiao Xing shared his decade of practical experience, including new requirements for public buildings strategies for existing large-scale public buildings to achieve carbon neutrality, and technological explorations made by Warmland.
IASP China Office will continue to organize more knowledge-sharing events for science parks and related companies in China, inviting experienced experts in various fields both nationally and internationally to share more valuable information and expertise for higher growth and efficiency.