Title:
ENRICH in Brazil officially consolidated
First image: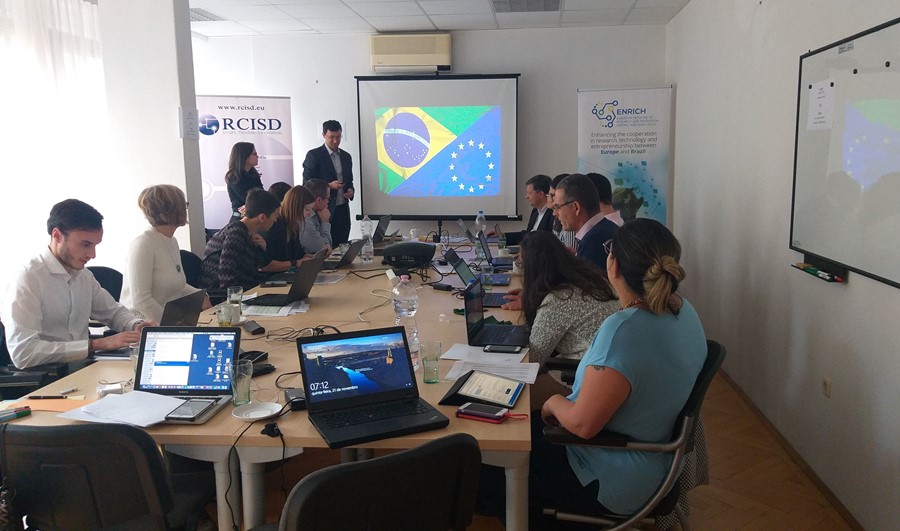 Text:
ENRICH in Brazil, as part of the European Network of Research and Innovation Centres and Hubs, was officially established in Brasilia on December 10.
It is the culmination of more than three years of work of the CEBRABIC project, funded by the EU's Horizon 2020 programme, which aims to promote cooperation in research and innovation between Brazil and the European Union. IASP is a member of the project consortium.
The association, formally constituted as the European Network of Research and Innovation Association Centres and Hubs in Brazil - ENRICH in Brazil, was founded by German Fraunhofer IPK Institute (Germany), RCISD (Hungary), the Portuguese Innovation Society and ANPEI (Brazil). Its first associate members are Natura, Braskem, the Swedish-Brazilian Research and Innovation Center (CISB), and the Consulate General of Luxembourg in São Paulo and Fiocruz.
New members will join at the beginning of 2020: the goal is to expand and strengthen the group of institutions, companies and professionals dedicated to innovation in Brazil and Europe, in order to become a think tank and a hub of partnerships and international business.
The centre's inaugural activity was to host an Innovation Talk on "Opportunities for Innovation in Brazil-Europe Free Trade", which was attended by the Ambassador of the European Union in Brazil Ignácio Ybañez and other high level representatives.
Members of the ENRICH in Brazil consortium met recently in Budapest, Hungary, for the 4th project meeting to discuss the 2020 strategy for consolidating the association and attracting new members. They also explored the new value-added services that ENRICH in Brazil will provide, in particular the Innovation Tours to Brazil and Europe, innovation talks and an upcoming companies' immersion week in Brazil.
To find out more about the project please visit: http://brazil.enrichcentres.eu/ or contact projects@iasp.ws.