Title:
First cohort of startups graduates from NSTP's pre-incubator
First image: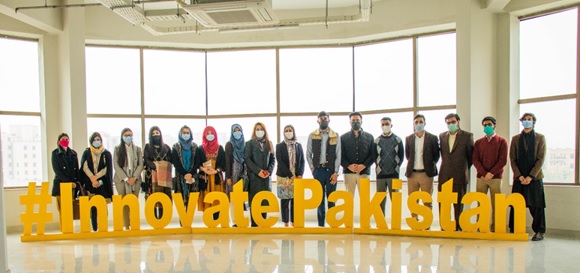 Text:
The first cohort of early stage startupsrecently graduated from the National Science and Technology Park's (NSTP) Hatch 8 incubator, overcoming the challenges of pandemic by pivoting online wherever possible.
Based on their campus in Islamabad, Pakistan, NSTP's Hatch 8 programme provides a unique ecosystem to early-stage startups, with a programme offering 163 hours of lectures, 52 sessions, and 15 courses spanned across 5 core areas per cohort. It incubates innovative tech startups aligned with UN SDGs, and who aim to improve society both socially and economically
At the beginning of 2020, new entrepreneurs were faced with market instability and uncertainty caused by the pandemic. Like the rest of the world, the innovation team at NSTP faced similar challenges during the COVID-19 outbreak. However, the team tackled the challenges head-on by taking several measures to mitigate the risk of mortality of newly formed start-ups at Hatch 8. They readjusted the way the organization operated, taking components online wherever possible and extending the programme to adjust to new realities.
Hatch 8's 6 month programme helps early stage startups validate their ideas and develop prototypes. Run twice a year, it offers free space along with a comprehensive regimen of entrepreneurial skills and business acumen training. During incubation, the innovation team at NSTP focused on helping the startups understand their customers and the market landscape under the pandemic, make key decisions based on data, and solve societal problems through the use of disruptive technologies.
After 6 months of rigorous training and mentoring sessions at the Park, nine startups were ready for graduation, with only one casualty along the way. Three of the graduates were given awards for high achievement on the basis of revenue generation, size of customer base, and socio-economic impact. Some were also granted space in NSTP's next stage incubator, Cube 8, whereas one even transitioned straight away into an NSTP Hi-tech SME.
The newly graduated startups are working in a range of sectors, including Ed Tech, Fin Tech, Agri Tech and Smart Tech. They are:
LoadEx

offers a smart, low cost, logistic vehicle-pooling platform that helps deliver commodities efficiently and reliably. Their service, accessible through web and a bespoke mobile app, helps in relocation of households, offices, apartments and moving machinery or freight.

Intoit, a tourism-tech solution, helps people explore different areas of Pakistan and guide them through the detailed cultural experiences within a certain budget. It aids users to choose and/or design trips to locations availing best of locales and culinary delights.

Vyro.

ai specializes in mobile technology and deep learning related applications. Their products include a variety of photo editors including Art Filters, Photo Editor, Bokeh Effect, and Neon effect background, soaring on Google Play Store presently.

AVITec, and AR/VR tech product, is a glove-based controller designed for the virtual world. They aim to provide an immersive and realistic experience that allows users to control their virtual worlds, solving problems of engineers, doctors, professionals and students.
Alpha Brain is an AI based company that will help diabetic patients take sugar reading in a cost effective, efficient and painless way.
Blockute provides a drop n' drag interface to allow users to create a custom private block chain network system without intensive coding and configuration.
VidIt is a social networking application that allows users to communicate, innovate ideas, opinions, emotars, videos and other online activities.

Smartup Technologies

is a peer-to-peer commuter-matching carpool app providing a secure ride-sharing experience.
RAAR is a transport facility company, in which users are able to rent electric bikes through their app, and pay on an hourly basis.
To find out more about NSTP and the work they are doing with startups, please visit https://nstp.pk/