Title:
Focus talks at IASP Seville
First image: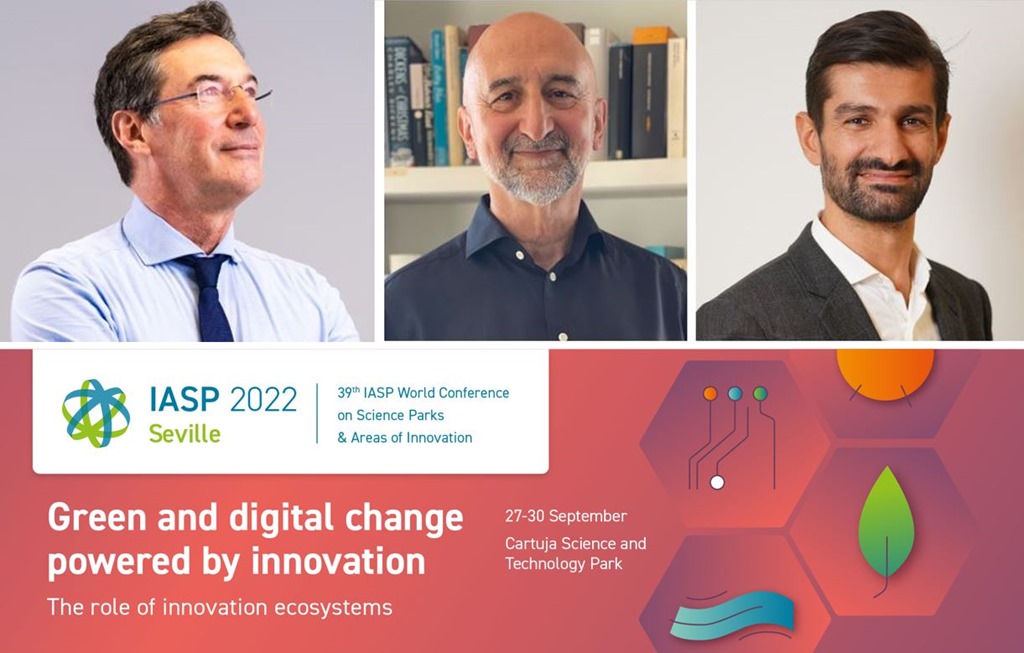 Text:
Join our TED-talk style Focus Talks at IASP Seville to hear perspectives from global experts in their field!
Some of the highlights include:
New approach to place-based innovation

We're very pleased to welcome Mikel Landabaso, Director for Growth and Innovation of the European Commission's science and knowledge service, the Joint Research Centre (JRC). He manages the Seville site which is located at our host park Cartuja Science and Technology Park, and he'll share insights on the Partnerships for Regional Innovation, a new approach to place-based innovation policy which builds on positive experiences with smart specialisation strategies. The initiative will test tools to enhance regional, national and EU innovation policies to implement Europe's green and digital transitions and to tackle the innovation divide in the EU. Hear his insights in the afternoon of September 28th.
Accelerating commercial collaboration for a greener and digital society

Sasan Shaba (Sweden) will be talking about how we can accelerate commercial collaboration for a greener and digital society with a look at the work of Ignite Sweden, a non-profit initiative that aims to foster innovation and accelerate commercialization by connecting startups to large companies and public organizations. He'll discuss how it works and what more needs to be done at a global level. Catch him at 9:30am on September 29th!
What's in a name: the taxonomy of innovation support projects

And President of the IASP Advisory Council Luis Sanz will be joining us too, to talk about a new study a group of experts experts is working on under the leadership of the JRC team in Brussels into the taxonomy of innovation ecosystems. A straightforward taxonomy will allow practitioners, policymakers, investors, and stakeholders to easily identify the nature and features of any innovation entity positioned inside the wide spectrum of the "innovation ecosystem" label. Find out more on September 29th.
Check out more of our speakers from around the world in the detailed programme on the IASP Seville website!