Title:
IASP advises new science park project in Romania
First image: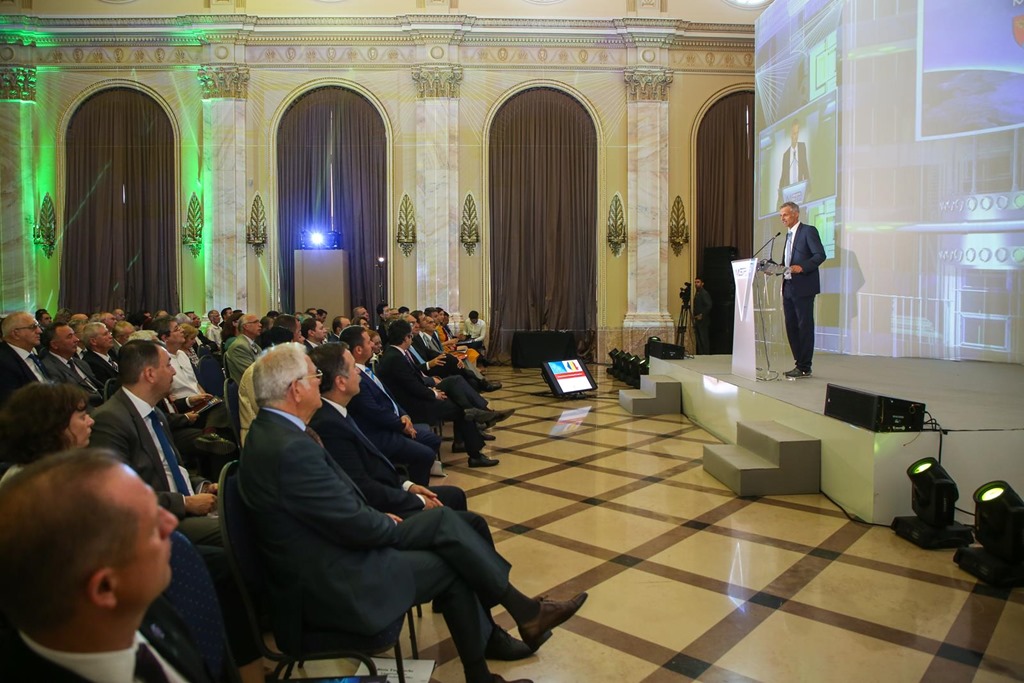 Text:
IASP European Division President André Domin (Heidelberg Technology Park, Germany) travelled to Romania to address the 'Inventing The Future' event which presented Magurele Science Park to over 200 representatives from academia, research, business, finance, the public sector and civil society, as well as members of the Romanian Parliament.
The 'Inventing the future: bet on science' conference took place on the 12th of June, in Bucharest's Royal Palace National Museum of Art of Romania, where speakers discussed strategies of innovation through tech transfer and the quadruple helix approach to tackle the challenges that Romania and Europe are facing.
Chairman of the Ilfov County Council, Marian Petrache, opened the event by presenting Magurele Science Park, an initiative of Ilfov County Council in partnership with the National Institute for R&D in Physics and Nuclear Engineering, and Magurele City Hall. It is conceived as a Romanian Silicon Valley through commercialisation of research and technology transfer, and home to the most powerful laser in the world. The park will bring together the most competitive sectors of Romanian research, creating an attractive knowledge-based ecosystem: a science park that will not only benefit the Bucharest-Ilfov Region, but the whole country.
Romanian president Mr. Klaus Werner Iohannis also spoke at the opening, commenting: "Magurele Science Park is the first of its size in our country and marks an important step towards a better connection between academia and private sectors, for the materialization of the results of research into added value economic enterprises. I congratulate the involvement of the local and regional authorities, together with international partners, for promoting the science park concept and budgeting the necessary financial resources."
IASP European Division president André Domin led a workshop focusing on ecosystems of innovation, sharing expertise on how science parks and business incubators work as vectors of economic development. He commented:
"The first step in a science park is to create bridges between academia and the economic environment, transferring science towards industry. What does a science park need? To define objectives and to create links to international academia, and you have a good starting point here in Magurele with the laser facility. You need flexibility in selecting the companies, accepting only the very good ones. Then, you must support these young companies, who are inexperienced and need guidance. There are many similarities between Romania and other European countries such as Spain regarding science parks and this should motivate you: I hope you will grow together with the other science parks that are members of IASP."
You can find out more about Magurele Science Park at www.magurelesciencepark.ro.