Title:
IASP participates at ZGC Forum in Beijing
First image: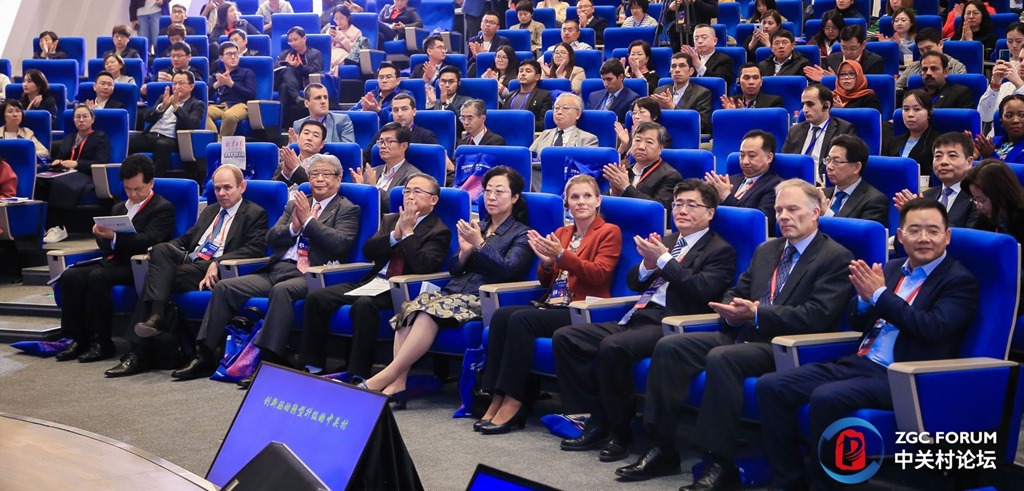 Text:
Under the theme "Cutting-edge technology and future industries," the annual ZGC Forum took place in Beijing, China, from 17-18 October, with the participation of IASP CEO Ebba Lund.
Hosted by China's Ministry of Science and Technology, the Chinese Academy of Sciences, the China Association for Science and Technology and the People's Government of Beijing Municipality, the Zhongguancun Science Park Forum has become a platform for enhancing China's science and tech communities and promoting international cooperation. Attended by scientists, entrepreneurs and investors from 50 countries, speakers explored trends in global technology and the development opportunities of emerging industries.
Joining senior government officials at the opening ceremony, including Cai Qi, Secretary of Beijing Municipal Committee, Minister of Science and Technology Wang Zhigang, and president of the Chinese Academy of Sciences Bai Chunli, Ebba Lund presented IASP's global innovation network, the IASP China Office, and reflected on years of cooperation between IASP and Zhongguancun Science Park. Other key speakers included Edvard Moser, the winner of the 2014 Nobel Prize for medicine, and representatives from Harvard University (USA), Tsinghua University (China), the Weizmann Institute of Science (Israel), the European Patent Office and the American National Academy of Sciences who explored themes such as research in brain GPS, quantum science in future digital technology, photoelectron science and life sciences and new drug innovation.
Hosted by Torch High Technology Industry Development Centre, the Ministry of Science and Technology, Zhongguancun Science Park and IASP, and organised by the IASP China Office and TusHoldings, a parallel forum chaired by IASP Vice President Herbert Chen on the following day took an in-depth look at "Transformation and Development of Global Science Parks."
Experts discussed the path for high-quality development of science parks under new circumstances, strengthening mutually beneficial international cooperation, and propelling deeper understanding between China's hi-tech zones and industrial parks and international science parks. Opening addresses were delivered by Jia Jingdun (Director of Torch High Technology Industry Development Centre) and Yan Aoshuang (Standing Committee of Beijing Municipal People's Congress), who reflected on the remarkable achievements made by science parks and hi-tech zones in China after nearly 30 years of development, becoming important platforms for international cooperation in technological innovation. Currently, a new round of technological revolution and industrial reform is reshaping the world's economic structure and competitive pattern, bringing new opportunities and challenges to science parks.
Ebba Lund examined the international dimension of science parks with a look at innovation ecosystems worldwide and the importance of internationalisation, while other expert speakers from Zhongguancun Science Park, TusPark and Japan's Science and Technology Agency shared milestones from their history and strategic development plans for the future. They reflected on themes such as open innovation, the role of clusters, university-industry cooperation, and the evolution from traditional parks into urban areas integrated into liveable cities.
The forum also included a round-table which focused on "Deepening cooperation between science parks and building 'The Belt and Road' Innovation Community", hosted by Mo Tan, International Director of Torch High Technology Industry Development Center, Ministry of Science & Technology, where representatives from Shenzhen high-tech zone, Switzerland Innovation, the Bio-Innovation Centre of TusPark Cambridge, Hong Kong Science Park and Chengdu High-Tech Zone joined the in-depth discussions.
Images: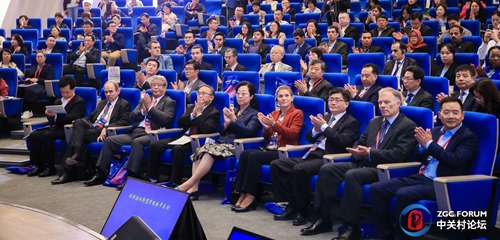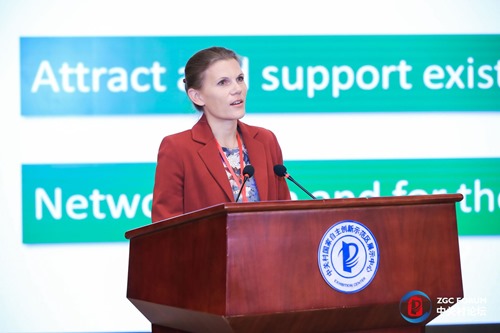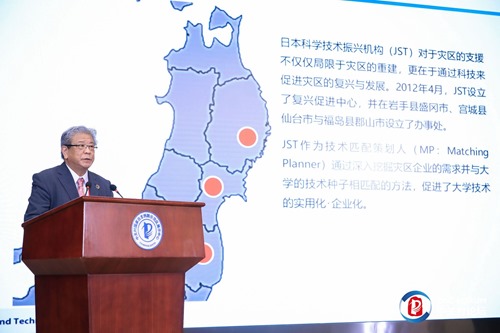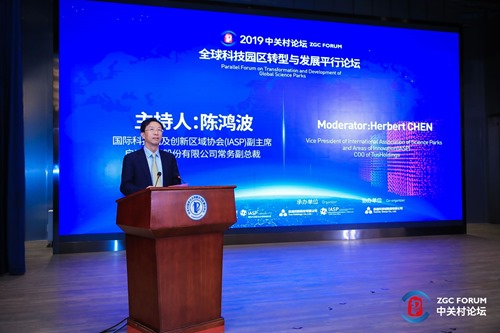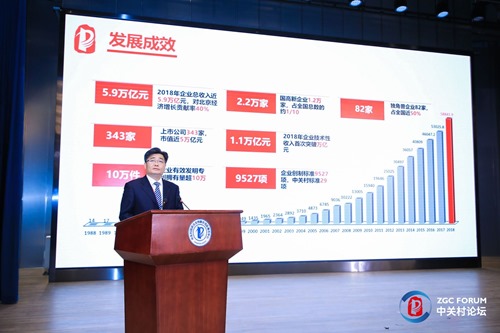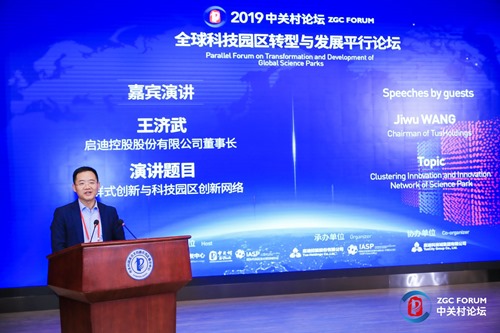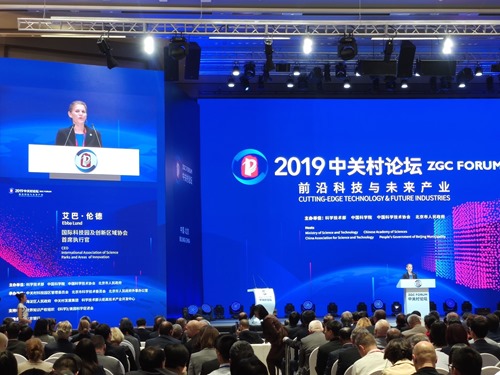 Delegates at the ZGC Forum
Ebba Lund addresses the parallel forum
Hiroshi Sito, Deputy President of Japan's Science and Technology Agency
IASP Vice President Herbert Chen
Lixin Zhai, Director of the administrative committee of Zhongguancun Science Park
Jiwu Wang, Chairman of TusHoldings
Ebba Lund addresses the ZGC Forum opening ceremony