Title:
IASP signs MOU with international Business Angel Networks
First image: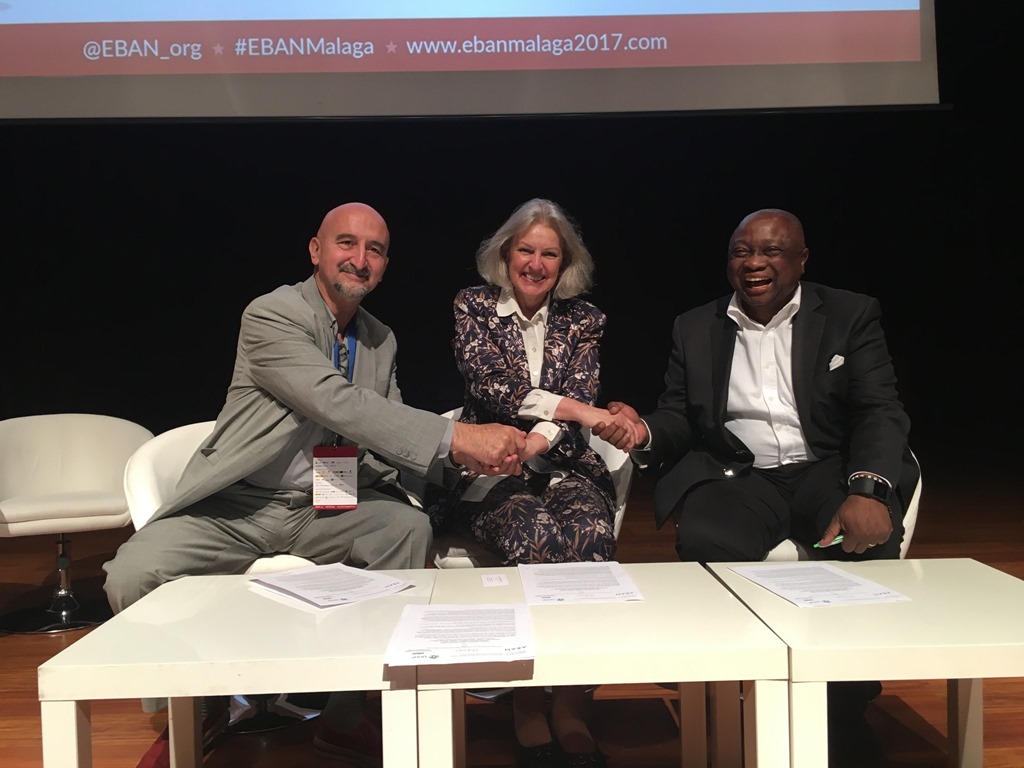 Text:
IASP recently signed an MOU for closer collaboration with the European Business Angel Network (EBAN) and its sister organisations in Africa (ABAN) and the Middle East (MBAN) and the World Business Angel Investment Forum (WBAF).
EBAN is the pan-European representative for early stage investors gathering over 150 member organizations in more than 50 countries. Established with the collaboration of the European Commission and EURADA, EBAN represents a sector estimated to invest 7.5 billion Euros a year and plays a vital role in the funding of SMEs. ABAN and MBAN perform a similar role in their regions, while WBAF works to ease access to finance for businesses from start up to scale up, to generate more jobs and more social justice worldwide. It is committed to collaborating globally to empower world economic development by creating innovative financial instruments for innovators, startups, and SMEs.
Director General Luis Sanz, EBAN President Candace Johnson and Africa Business Angel Network President Tomi Davies signed the MOU at the closing ceremony of the EBAN Annual Congress 2017, held as part of the Malaga Innovation Festival in Malaga, Spain. IASP, EBAN and the sister business angel networks agreed to work together and promote cooperation based on mutual aspirations in the science, technology, innovation and entrepreneurship, and to support the creation of new technology and knowledge-based companies.
The EBAN Annual Congress attracted more than 500 participants from the early stage investing market, as well as hundreds of startups including several from IASP member parks in Portugal, Bulgaria, Poland, Estonia, South Korea, and South Africa who travelled to Malaga for the opportunity to pitch to potential investors and make valuable contacts. As well as exclusive access to a training webinar tailored to the EBAN angel investor network, the IASP companies had the chance to learn tried and tested business skills from speakers who are themselves highly successful serial entrepreneurs.
With this ongoing collaboration with EBAN, ABAN, MBAN and WBAF, IASP is delighted to bring more opportunities to the innovative companies based in IASP member parks, helping them to develop and grow their businesses worldwide.