Title:
IASP Vice President at ASEAN STP management conference
First image: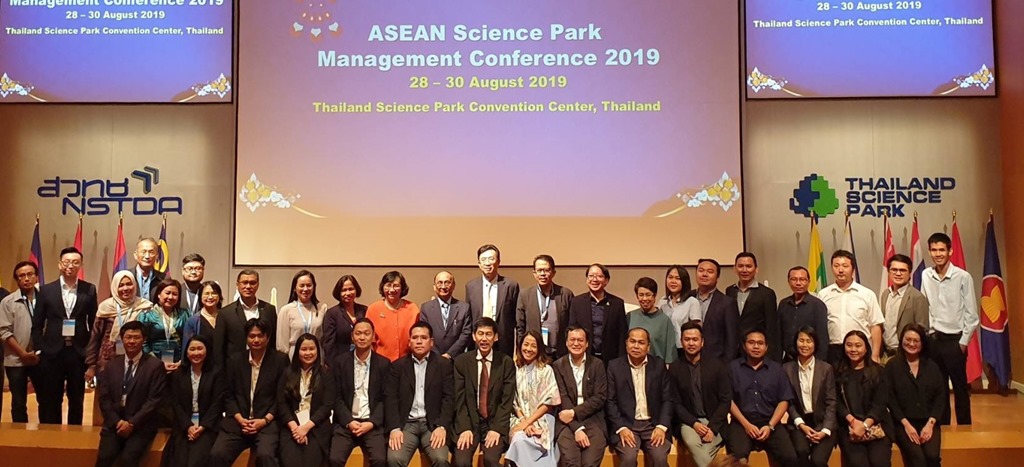 Text:
IASP member Thailand Science Park recently hosted the ASEAN Science Park Management Conference 2019, welcoming IASP Vice President Herbert Chen as keynote speaker.
The ASEAN region (Brunei, Cambodia, Indonesia, Laos, Malaysia, Myanmar, Philippines, Singapore, Thailand and Vietnam), has a population of over 622 million people and one of the largest economies in the world, and the conference aimed at promoting sustainable growth of science parks and facilitating networking among science parks in the region. It brought together 100 participants representing science parks, academia, companies, and business accelerating organizations from Thailand, ASEAN member countries and beyond, providing a platform to share knowledge and experience in STP management and foster collaboration. Thailand currently holds the 2019 ASEAN Chairmanship, under the theme "Advancing Partnership for Sustainability".
At the opening ceremony, Mr. Chen delivered the keynote speech on "One Belt One Road - Opportunities for ASEAN Science Parks and Partners", exploring the initiative's development strategy and the opportunities it offers to ASEAN parks. He also emphasised the role of international networks like IASP in promoting international cooperation and collaboration.
The opening ceremony on 28 August was presided over by Prof. Yongyuth Yuthavong, former Deputy Prime Minister and Minister of Science and Technology, who underlined the role of science park in expediting the innovation process – from proof of concept, to prototyping, pilot production and mass production – and thereby driving the economy forward. The event marked a starting point to promote the exchange and sharing of expertise and experience in managing unique infrastructure such as science parks and innovation hubs in ASEAN countries and grow the regional innovation ecosystem.
The conference also saw the launch of WBAF Thailand Country Office and the collaboration between Thailand's National Science and Technology Development Agency and the World Business Angels Investment Forum (WBAF). The new country office aims to develop local angel investors to foster the startup ecosystem and expand WBAF's work in the ASEAN region. It is the first WBAF country office in South East Asia and will be instrumental in advancing research, development and innovation to commercialization.