Title:
Knowledge on the agenda at IASP International Board meeting
First image: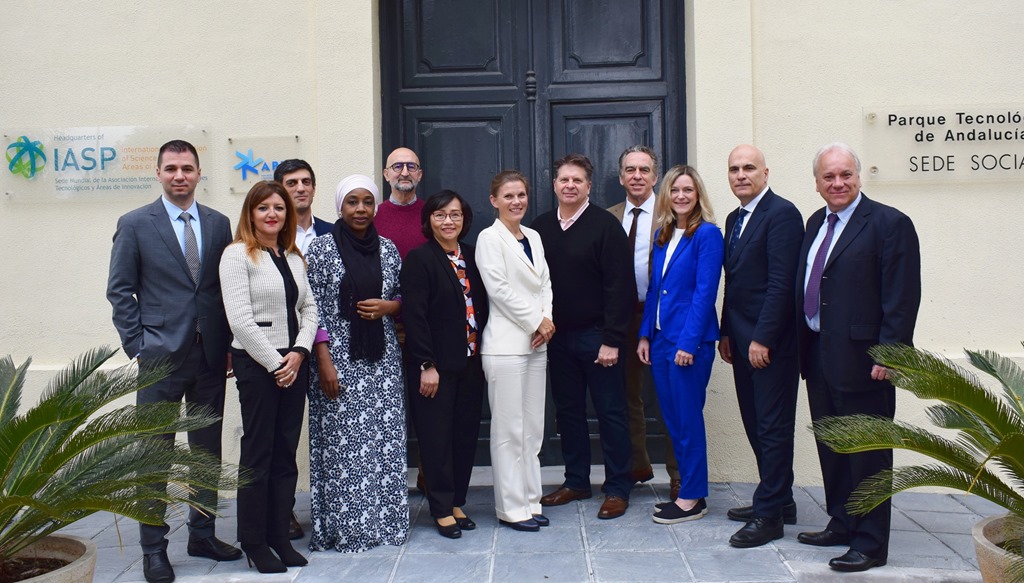 Text:
The IASP International Board of Directors met at IASP Headquarters in Malaga, Spain, on the 18th-19th February, under International Chairman Paul Krutko (Ann Arbor SPARK, USA), to discuss progress towards IASP's future strategy and to outline the path to follow over the years to come. Key developments include the start of research into a Global Atlas of Innovation - a publication of detailed information about innovation nodes and ecosystems across the world, and a new conference model and selection of innovation hotspots for future meetings.
IASP CEO Ebba Lund, said: "Every year, our February Board meetings gather experts from all across the world to discuss strategy and long-term plans. This year's agenda is especially dense, as we have ongoing projects that are relevant for the whole sector of innovation spaces and ecosystems, including the preparation of two major international conferences this year and the next, in Seville and Silicon Valley."
New knowledge and research
A key pillar of IASP's knowledge leadership strategy in 2020 is our Global Atlas of Innovation project, which is now beginning its research phase. Thanks to the collaboration of many international experts, the atlas will map innovation nodes and ecosystems around the world, providing detailed information about them and their impact in their communities, cities and regions. Including not only all IASP members, but also many other important science parks, research parks, innovation districts and areas of innovation, this is an ambitious project to form a global picture of our industry as a whole that IASP, as the only worldwide association of STPs/AOIs, is ideally placed to deliver.
New conference model
In a new approach following the 2021 Silicon Valley conference, IASP will be changing how our World Conferences are organized. As IASP events continue to increase in size and scope, and with a growing number of world cities interested in hosting, the association has decided to appoint a core Professional Conference Organiser (PCO) to enhance the delegate experience, accommodate more attendees and help identify the best possible destinations. Putting innovation hotspots on the global stage and offering attractive meeting destinations for our members and industry is key, and we look forward to sharing more details soon.
While not all Board members could join us on this occasion, the full International Board is made up of a total of 18 members from 15 countries across 5 different continents: China, Canada, Colombia, Denmark, France, Iran, Morocco, Nigeria, Russia, Spain, Sweden, Thailand, Turkey, Uruguay, and the USA, all of whom are experts in areas of innovation and science parks and have years of executive management experience.

For a full list of IASP Board members, see www.iasp.ws/about-us/board-of-directors.