Title:
Life Science Incubator opens at Utrecht Science Park
First image: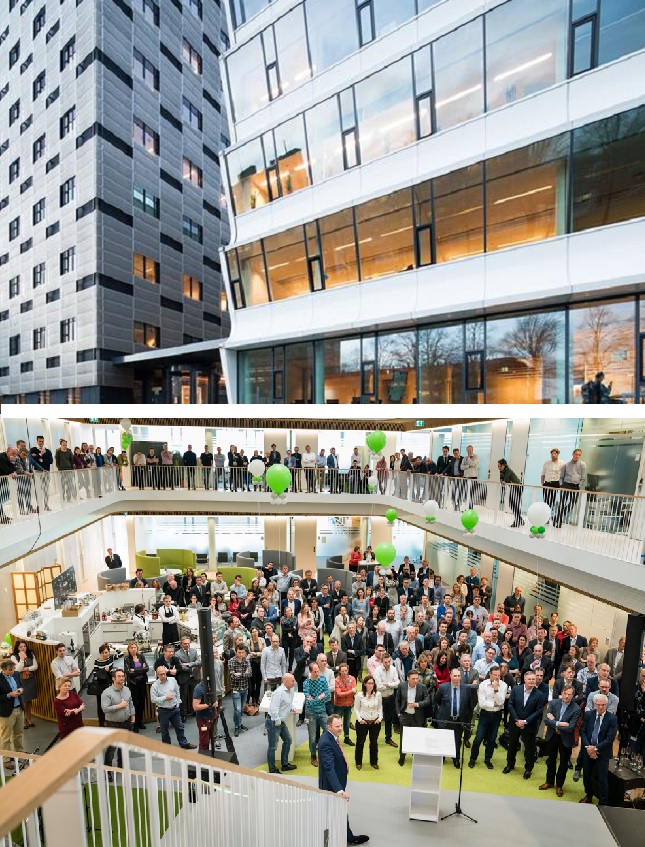 Text:
Utrecht Science Park, IASP member from The Netherlands, recently inaugurated a new life sciences incubator with the opening of a new cutting-edge office and laboratory building to meet the increasing housing demand of local startups and entrepreneurs.
Utrecht's strong infrastructure and the presence of leading research organizations have made it a magnet for specialized life science companies, as well as creating many new spinoffs. The new Life Science Incubator (LSI) will provide an open structure that encourages collaboration between its users, and will house a mix of start-ups and more established companies in the bioscience field so they can learn from one another.
Oscar Schoots, director of the new incubator, said:
"At LSI we opted for an open structure. We'll just encourage cooperation between the companies. We also see that it works and that companies use each other's facilities. We have deliberately chosen a mix of start-ups and mature companies. So you can learn from each other. To get a place in the LSI, it is a condition that you work together with other organizations in the Utrecht Science Park."
The new building offers an inviting and flexible work environment, efficiently using space to allow LSI to adapt to the changing needs of its users. Tilted triple glazed window panes act as a natural sun and heat protector, while the façade combines glazing with recyclable composite material, making it both long-lasting and cheap to maintain. Walkways and staircases zigzag through the atrium, forming shortcuts between different departments while meeting spaces situated where walkways intersect promote collaboration between the users of the incubator.
One of the speakers at the opening was Ton Logtenberg, CEO of a company that develops new drugs for cancer treatment, who commented: "A company like Merus has been successful by the excellent quality of knowledge and facilities available within walking distance. In addition, the LSI building has the look that suits biotech companies that operate and compete internationally."