Title:
Poznan Science and Technology Park celebrates 25 years
First image: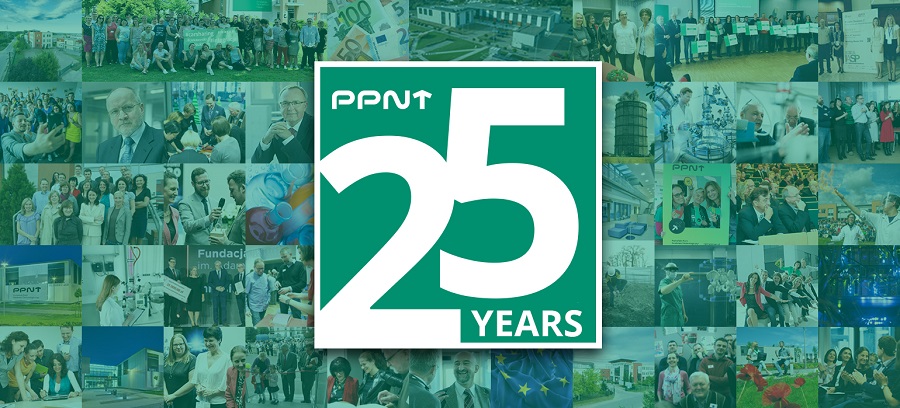 Text:
One of the first IASP members in eastern Europe, Poznan Science and Technology Park (PPNT), is celebrating 25 years since its foundation.
Origins of the park
PPNT began life in 1995 on a plot of land donated to the Adam Mickiewicz University by the district gas company, and which required the challenging demolition of a colossal gas retention tank and the complete renovation of a ruined chemical plant. The first building to open on the site was a chemical lab, adapted to include office and social facilities and cutting-edge technological and analytical tools. It was followed by The Centre for Archaeological Research, which carries out rescue archaeology excavation work as part of large commercial projects such as motorways and mines, with PPNT playing a key role in the development and implementation of new standards for infrastructure projects.
Poznan's mission today is to commercialise knowledge and technology, particularly in the fields of chemistry, physics, biotechnology and IT via scientific research. Its goal from the start was to be the Polish Silicon Valley, using the park's specialised infrastructure and the team's unique skills to enable closer cooperation between science and business.
They now offer professional services for innovative businesses and science, ensuring a friendly and creative environment for projects including research, development and innovation support, as well as forging new relationships with scientists and businesses to ensure commercial success. By selling high-quality services and thanks to external financing, we are a great place to work, offering our employees job satisfaction and opportunities for professional development.
Poznan Science and Technology Park today
After expanding multiple times, the park takes up nearly 5.5 ha and houses 18,000 m2 of modern office and laboratory space. More than 60 rapidly-growing companies call the park their home, with over 1000 regional companies cooperating annually, many of them operating on an international scale. The PPNT team are proud of their record in acquiring EU funding, and credit their success to years of experience, trial and error, and a plethora of completed projects, at regional, national and international level.
Since 1995, PPNT has incubated over 120 startups, developed 40 technologies, some of which were implemented for production, developed and protects 50 of its own patents and 110 patent applications in the country and abroad, published 270 scientific publications and about 80 publications on the importance of innovation, and managed over 120 EU related to designing new technologies, entrepreneurship and innovation. They have also hosted over 51,000 training and workshop participants, and showed over 100,000 visitors of the PPNT ImagineLab, a park center for popularizing science that physics, chemistry, engineering and innovation are a great source of fun.
Luis Sanz, former CEO of IASP who has followed the project since its very beginning, commented:
"PPNT was one of the first IASP members in Eastern Europe, and has been a cornerstone of our membership in that region ever since. Little wonder, because PPNT has always understood the importance of networking and, in particular, of international networking. The main pillars that sustain PPNT strategy throughout the years are quintessential to STPs: they are tightly connected to the University, they carry out R&D activities, they incubate new business ventures, and they actively promote the commercialisation of technology. Since those early, exciting founding days I have worked with PPNT many times, and I want to publicly praise their readiness to embrace new ideas and to collaborate with many of our initiatives, both in Europe and in other regions of the world. This is a good moment for me to say: Well done, PPNT, and thank you for being such a valuable member of our global network."
To find out more about Poznan Science and Technology Park and their history, please visit https://ppnt.poznan.pl/en/.