Title:
Skolkovo startups attract attention from LG Electronics
First image: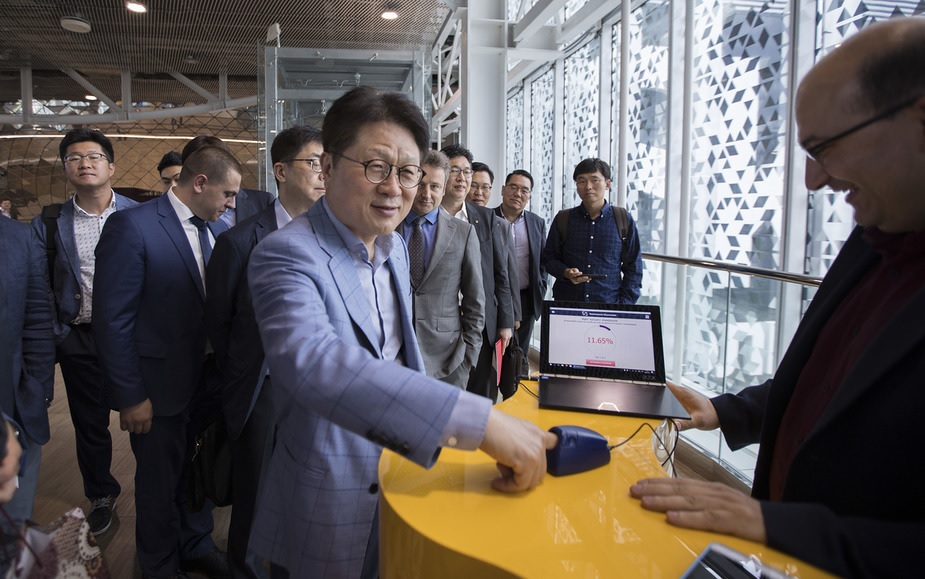 Text:
A delegation of more than 40 representatives of South Korea's LG Electronics visited the Skolkovo Innovation Centre, Russia, to explore opportunities for cooperation. Headed by Seung-Kwon Skott Ahn, chief technology officer of the Seoul-headquartered LG Electronics, which manufactures and sells consumer electronics, mobile communications technology and vehicle components, the group met some of Skolkovo's resident startups and trying out their technologies.
The Korean visitors watched presentations of both the Skolkovo Foundation and the Skolkovo Institute of Science and Technology (Skoltech), before examining 10 Skolkovo innovations presented by their inventors.
A non-invasive glucometer made by Skolkovo Technopark biomed resident Brain Beat attracted the attention of the delegation: the Russian startup's technology is cheaper and more mobile than its competitors, the company's general director told LG Electronics. Unlike its competitors, its results are not affected by sweat on the skin: several visitors even stepped forward to put the product to the test by measuring their own blood sugar level.
Also eliciting a lot of interest among the LG representatives was an automated driving system made by Cognitive Systems, a resident of Skolkovo's IT cluster. The computer vision-based modular software works in any weather and on any roads, they told the delegation, demonstrating the system in real time on a computer screen. The system includes pedestrian detection, collision warning and smart lane detection.
There is no legal framework yet for driverless cars to be tested on Russia's roads, but Cognitive Systems has a ready product in the form of driver assistance systems that alert the driver to the presence of obstacles and help them to keep in lane.
To learn more about Full IASP member Skolkovo Technopark, visit http://sk.ru/technopark.