Title:
SpaceUp project holds final event in Brussels
First image: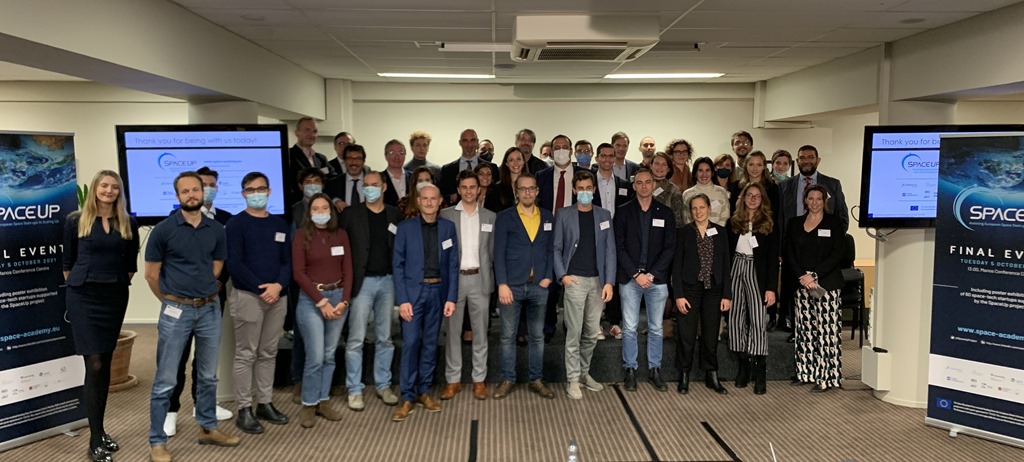 Text:
The SpaceUp project recently held its final event in Brussels, Belgium, where members of the consortium including IASP presented results to the European Commission and to a wider public.
SpaceUp is a Horizon 2020 funded project that supports development of a competitive and entrepreneurial space industry in Europe, and helps European space startups to become mature companies. It does this via activities offering expertise, customised coaching services, one-to-one meetings and matchmaking and hosting a series of Space Academies throughout Europe, directly helping startups come to market exploitation accelerate on the road to success!
The event also aimed to maximize the visibility of the 60 startups who participated in the Space Academies, via a dedicated poster exhibition and sharing success stories, best practices and the lessons learned. It also provided policy recommendations, in particular on the follow-up of the initiative, its long-term sustainability, and its integration into a wider European context of support for startups.
With a keynote address from Tomas Jonsson, the European Commission's CASSINI Project Manager, and panel session featuring the 6 most advanced startups and the Astropreneurs project representative moderated by IASP's Alicia Shelley, the event also offered ample networking opportunities between the startups, project partners, investors, policy makers and EU/ESA officials.
To learn more about SpaceUp and its work with space entrepreneurs, visit https://www.space-academy.eu/