Title:
Surrey Research Park supports launch of Haiti's first business incubator
First image: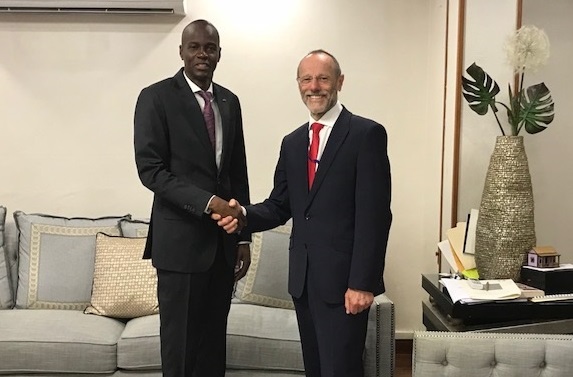 Text:
Surrey Research Park Director, Dr Malcolm Parry OBE, recently presented the keynote speech at the opening ceremony of the Alpha Haiti National Incubator, at the personal invitation of His Excellency President Jovenel Moïse of Haiti.
The Alpha Haiti National Incubator is the first full-feature business incubator in the Caribbean. Haiti has a growing population of young people and the development of the Alpha Haiti Incubator aims to provide entrepreneurs with infrastructure, training and mentorship to build successful startups and small businesses. The new incubator will help support regional economic development and the creation of jobs and wealth in a country that urgently needs them.
Dr Parry met separately with the President of the Republic of Haiti at his private residence to discuss President Moïse's project to transform the La Gonâve island, with the development of the largest science and technology park in the Caribbean and Central America. Dr Parry's visit to Haiti followed a visit to IASP member Surrey Research Park in Guildford, UK, two years ago by an advisory team from the President's office.
Alpha Haiti will provide advanced incubator facilities which reflect those offered by the world's leading economies, with a focus on the FinTech, renewable energy and agriculture sectors. With its multilingual capability, supporting the French, English, Spanish and Creole languages, the incubator will help companies launching a business into regional and global markets.
"We're not waiting around and hoping that economic development will come to Haiti and to our region, instead we are creating the context that will make it happen," said President Moïse. "The next generation of entrepreneurs, big thinkers, and job creators will be given the support they need and deserve."
Dr Parry commented: "The Research Park team and the University of Surrey are always looking to capitalise on the increasing value of knowledge in the economy. We believe that entrepreneurship gives economic meaning to science. By using real life success stories and sharing the expertise of the Surrey Research Park, which boasts nearly 40 years of experience in this field, we can support Haiti and governments of developing economies across the globe, turning this ideology into a reality."
For more information about the Alpha Haiti Incubator, visit http://alpha.ht/.