Title:
RECORDING - IASP WEBINAR "The Ideon Science Park mentorship scheme"
Billede: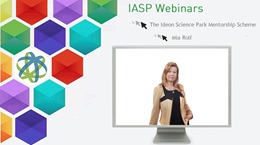 Description:
Ideon Science Park CEO Mia Rolf explores the Ideon Science Park mentorship scheme.

IASP members, log in to purchase this webinar for the special price of 40€!
During its 35-year history, Ideon Science Park, Sweden, has known many entrepreneurs that have built their companies from scratch to an international success. On their journey, they have listened to advice from more experienced people and they may have used the innovation support system offered at Ideon. The important thing is that they have figured out how to take a great idea to the market and how to grow a company, creating jobs in the region as well as around the globe.
Ideon Science Park has been mentioned as one out of 13 brain belts where the smartest people in the world live and work. The Ideon Mentorship program connects the experienced leaders in the park with entrepreneurs who want to learn how to grow their business. The mentors, the experienced leaders, have serious scale-up skills to teach and important connections to offer to the right mentee. By helping each other they can both grow.
This webinar will take an in depth look at how the mentorship scheme works at Ideon Science Park, with insights into how it could be implemented in other STPs in other parts of the world.
About the speaker
Mia Rolf is CEO of Ideon Science Park (Sweden), a 35 year old puplic-private partnership park, with over 400 companies and 9 500 employees. Ideon Science Park works within focus areas Smart City, Future Transportation, Healthtech and Smart Material and serves companies from startup and SMEs, to larger international corporations, and has recently launched a scaleup mentorship program to reuse the knowledge in the park.
Mia holds an Executive MBA and has previously held leadership roles in large international organisations in the ICT sector. She also has 12 years of experience as an entrepreneur in three different companies, focusing on change management, digitalization and loyalty development.