Title:
The Ownership, Governance and Management of STPs
Billede: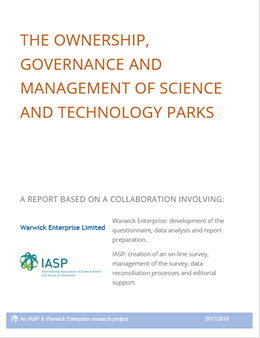 Authors

FullNameWithTitle2:

David Rowe


Publication date

November 2018
Description:
Available free for Full and Affiliate IASP members!

Prepared in collaboration with David Rowe (Warwick Enterprise, UK), this report seeks to tell a story, born from the data set, of the key patterns in ownership, governance and management and how they interlink – driven often by the nature of the ownership structure. Understanding the different models and strategies used to govern STPs is not only theoretical knowledge but can have valuable practical implications, enabling science park managers to better understand their own model by comparing it to others or choosing to undertake changes and improvements in this regard.
Although there is already some data on ownership and other data on management, they tend not to be interlinked. So, we do not know whether or not any particular ownership pattern leads to more usual styles of governance and ownership. This report seeks to lift the cover on the subject of the ownership, governance and management of STPs in a way that links all three.