Heading:
Spotlight on women in science parks
Publication date - real:
26-04-2018
User info - details - for blog detail layout:
First image: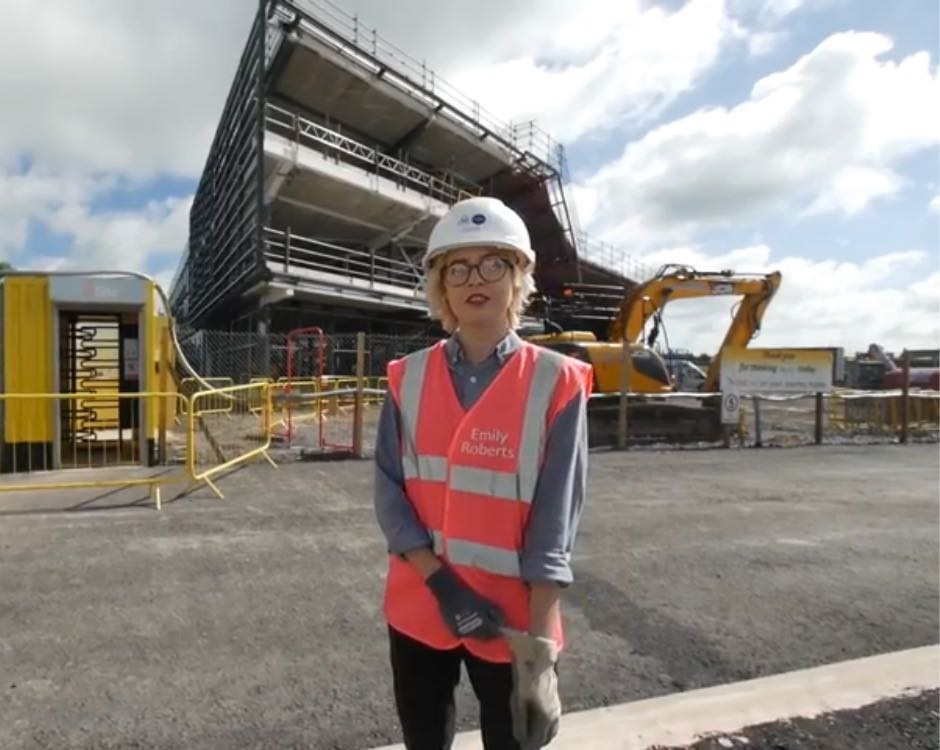 Long text:
One of the aims of our Women in IASP subnetwork is to raise the profile of female science park managers, and over the next few months we'll be featuring interviews with members of the group from around the world who will tell us about their journey into the industry, their STP, and gender equality in their country. Today we are talking to Emily Roberts at Menai Science Park (M-SParc), UK.
1) Tell us a bit about what you do at Menai: what does a typical day involve?
I work as Project Administrator and Marketing Officer for Menai Science Park. The main focus until this year has been on the build side, and winning over the local and national business community to buy in to the idea of Wales' first dedicated science park.
In March, we moved to our brand new building in Anglesey. A typical day usually involves a good mix of preparing offices and information packs for new tenants and greeting them when they arrive, addressing any concerns our tenant companies have for the day, arranging meetings as PA to our director, attending and taking minutes for internal and external meetings, keeping the park's social media pages updated, adding content to the website, arranging internal conferences, and letting our meeting room and conference space to external bodies.
There's also a good bit of variety, which is what I love about my job, and I can also be found patching switch ports for tenant offices, re-setting entrance bollard timers, visiting members of the community who raise concerns, and working with local schools to develop our STEM programme.
2) What was your journey to working in the science park industry – what did you study or work on before joining your organisation? What brought you here?
Prior to this job, I graduate in Psychology at Bangor University and went to work for my Dissertation supervisor, creating Welsh language measuring tools for children aged 2-11. The current tests were all translations of English and not standardised, to this was exciting work to be involved with. It helped create my passion for STEM engagement work which I've carried over to M-SParc. The grant funding we received came to an end and I felt it was time to challenge myself again career-wise, and that's what brought me to the science park.
3) What do you enjoy most about your job?
What I enjoy most is seeing people come into M-SParc, be they new businesses or members of the public, and learning about our ethos and what a Science Park can bring to a region in terms of economic benefit. Seeing them react positively and supporting us is a really good feeling.
4) Tell us a bit about your science park/area of innovation: what makes it unique? What impact does it have on the local community and the region?
M-SParc is the first dedicated Science Park in Wales, with a focus on Low Carbon, Energy and Environment, and ICT. We're wholly owned by Bangor University, with a strong research link. There are a few business parks and incubators in Wales, but nowhere for companies to go when they grow, and that's what makes M-SParc unique. We provide business support to ensure companies can grow, and give them the space they need to grow in, so that they don't have to leave the region and take their economic impact with them - which is unfortunately often the case now. This has a great impact on the region and local community, providing high level employment opportunities. Most importantly, for me, it brings an element of pride; you can live, work and grow in North Wales, in a high-level job with opportunities to grow.
5) As a female science park employee, what is your advice to other women interested in this industry or who work in innovation?
The one thing that is currently quite noticeable is the ratio of male to female staff in our tenant companies. It is a very male-dominated building. My advice to other women interested in this industry or who work in innovation is to have confidence in yourself. I sit further from reception than my male colleagues but still people refer to me as the receptionist. There's nothing wrong with saying "that's not my role", and asserting yourself if you feel you're being undermined. It took me a long time to realise this. I'd also advise you to have a female colleague, weather from your workplace or someone who you know, that you can speak with from time to time about your experiences. It really helps make you feel less alone when you're feeling outnumbered.
6) How do you see gender equality in your country? How would you describe the participation of women in the field of innovation?
Gender equality in Wales, and the UK, is a hot topic at the moment, but there's still a long way to go. Women are out there in the field of innovation, and I think generation by generation it's improving, but there are many stereotypes to overcome before then, and the majority of company CEOs are older, white males. Gender equality on a global level is essential. The stigmas and stereotypes that create this uneven playing-field are not valid, and its incredibly frustrating to see women in meetings I attend be talked over, ignored, and in the majority time and again. I don't know what the solution is to speed up the process of levelling the playing field, but I try as often as I can to point these issues out and make sure they at least get spoken about, if they aren't always addressed.
I hope in future to see a much more even spread of male/female staff within tenant companies, and in the wider area of innovation.
There are no comments