Conference theme
World Sustainable Built Environment Conference
First image: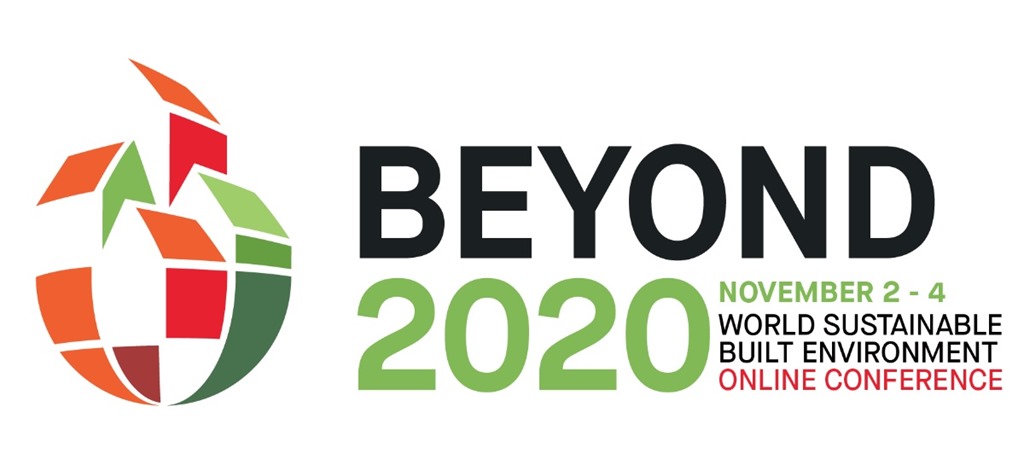 Notes:
BEYOND 2020 conference will take place online on 2-4th November 2020!
Even though the physical event originally planned for June 2020 in Gothenburg had to be cancelled due to COVID-19 situation, the building sustainability dialogue continues.
"We do not believe that it is very likely for regular conferences to take place anytime soon again, and therefore it is important that stakeholders in the built environment embrace the new digital ways of exchanging, learning, and networking", says Holger Wallbaum, Professor in Sustainable building at Chalmers University of Technology and Chair of BEYOND 2020. "Very importantly, the online conference will allow us to discuss the urgent questions related to climate change action and sustainability in the built environment, without causing a significant carbon footprint in the process".
Just as it would have been the case at the physical event, BEYOND 2020 online conference will be hosted by moderator Angela Lamont who has a vast experience in moderating online conferences. As she points out, "The online opportunities nowadays are incredible and help to address some of the issues traditional events face. Online conferences are generally more accessible, affordable and environmentally friendly, and I am very happy to continue my collaboration with BEYOND 2020 in this format".

Co organised by Johanneberg Science Park, BEYOND 2020 embraces a global perspective that reaches across academia as well as private and public sectors, working together to develop concrete solutions and achievable implementation plans. These solutions will incorporate research, policy, finance, education, and innovative thinking, in order to create the resilient and sustainable built environments of tomorrow.