Title:
Cyberjayas Living Lab finds its feet
First image: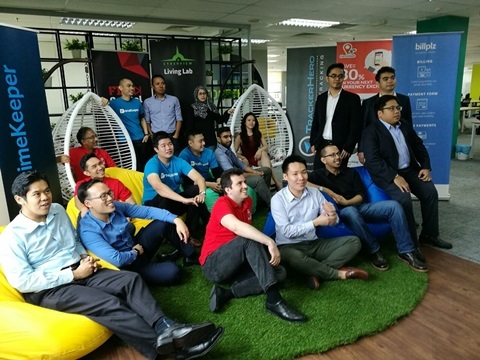 Text:
Launched in late 2016, Cyberjaya's 4th Living Lab Accelerator programme for startups has already resulted in five smart city-focused fintech and IoT solutions.
"Our fourth Living Lab Accelerator Programme kicked off in November last year. Working primarily out of our collaborative workspace CoInnov8, these startups were given access to a whole host of resources that they would need to innovate and commercialise their products successfully," said Dato' Faris Yahaya, managing director of Cyberview, an IASP member from Malaysia.
They recently demonstrated their solutions to a group of venture capitalists, corporate partners, and investors with pitches that ranged from a co-op community platform for young families seeking affordable baby products, to a mobile app to point to the best currency exchange rates anywhere in the world. The selected startups all aim to disrupt conventional approaches using certain gaps in the market, with solutions that feed into a smart city's needs, and the Cyberview Living Lab Accelerator provides a platform for them to grow their ideas into game-changing businesses.
"This is a large part of what Cyberview is doing to drive Cyberjaya's position as a Living Lab for tech and smart city solutions. In the next step of our Living Lab programme, these startups will now be given the opportunity to pilot and validate their ideas right here in Cyberjaya," Faris explained. "This is a unique proposition of our Living Lab initiative because these startups will be able to test and tweak their ideas based on a real life setting. Only then can they identify the actual pain points to their creations and address them directly."
The selected startups are given resources, facilities, and other assistance valued at RM50,000 for each startup. These resources include mentorship in marketing, legal, IT and fundraising as well as leveraging on network of investors, mentors and entrepreneurs.
Further guidance is given by the City Innovation Council (CIC), a body led by Cyberview which guides the smooth implementation of Cyberjaya Smart City Projects, identifies emerging challenges and strategic opportunities for the city, and ensures that solutions created solves real problems for real people.