Title:
Global health solutions at Berlin Adlershof
First image: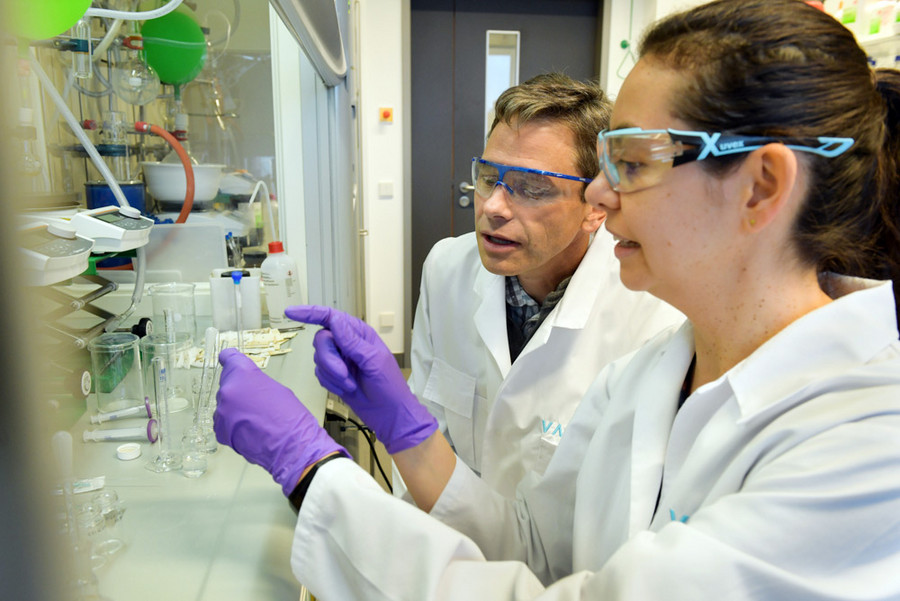 Text:
Companies based at Berlin Adlershof companies are developing important contributions to the global battle against diseases like cancer, HIV and Ebola, and multidrug-resistant bacteria.
One of these companies is Vaxxilon AG, which is developing synthetic vaccines for two of the three most dangerous bacterial threats, which have developed resistances against most available antibiotics: Clostridium difficile (C. difficile) and Klebsiella pneumoniae (K. pneumoniae). Vaxxilon is working on vaccines based on synthetic carbohydrates, which stimulate the production of antibodies in the human immune system.
Just a short walk away from Vaxxilon's labs, Chembio Diagnostics GmbH develops globally mobile devices for reading quick tests. Their test systems can detect HIV, Ebola and Zika viruses in just 10-15 minutes, and they already supply 150 customers in 45 countries. "For a tech company, it absolutely key to think and act globally right from the start," said director Lutz Melchior.
One of the company's specialities is a mobile reading device. Only 4 centimetres long and weighing just 40 grams, the smart cube fits into any pocket and provides an unambiguous and objective result in just three seconds. To facilitate documentation, this can be transmitted to mobile end devices via Bluetooth. Especially in remote areas, this connected, fast, and reliable mobile diagnostics device is key for containing deadly diseases.
Alacris Theranostics GmbH is another life science company with a global reach. Its leadership consist of researchers and experts from Germany, the United Kingdom, and the US. Their networks go as far as Asia and, thanks to an array of EU research projects, also to many European countries. Many clinics seek the support of the Berlin-based firm for personalised therapy of cancer patients - precision oncology based on data provided by Alacris. Personalisation, in this case, means pinpointed attacks on individual tumours.
Based on fully sequenced DNA and RNA, the company can test a range of therapy options in simulations to identify effective medication and optimise personalised cancer therapy. Alacris relies on reducing costs through automation and standardisation in order to provide their approach, which is rooted in systems biology, to as many global cancer patients as possible. They have a clear conviction: good health care is a global goal.
To find out more about IASP member Berlin Adlershof and their resident companies, visit https://www.adlershof.de/en/.