Title:
IASP starts webinar service
First image: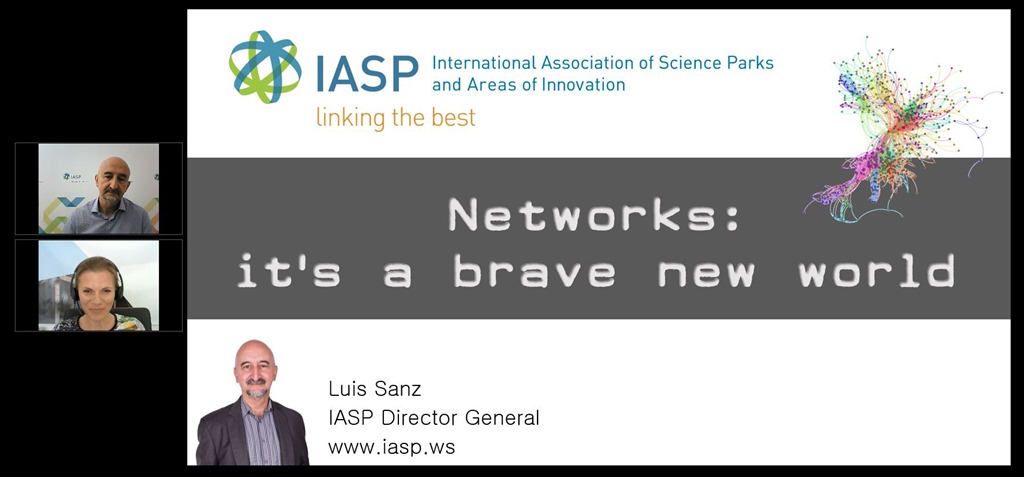 Text:
We are thrilled to announce our new webinar service launched this month with a first session on the dynamics of networks and how they connect organisations and individuals.Seen from the perspective of STPs and AOIs, the speaker was IASP Director General Luis Sanz, with Chief Operations Officer Ebba Lund moderating.
As well as theory, the session covered some practical steps for science park managers in getting to know the networks that operate within their STP and planning, staffing and budgeting for networking activities. The webinar included checklists to guide managers through the key questions to ask when analysing their local network, and how to approach the fundamentals of professional networking. In the Q&A that followed, participants discussed what sort of objectives to set for their networking activity, and the different role filled by the manager of a smaller park where they could know all tenant companies personally, compared to the manager of a very large park with hundreds of companies.
If you weren't able to join us live, don't worry, you haven't missed out – the recording will shortly be available for purchase in the IASP Knowledge Room.
Why not join us for the next webinar on September 6th, where Scott Andes from the Brookings Institution will be exploring the economic impact of universities in cities. Full details of this and all our upcoming webinars are available in the Events section of the IASP website.