Title:
Sustainable urban development in Sweden and South Korea
First image: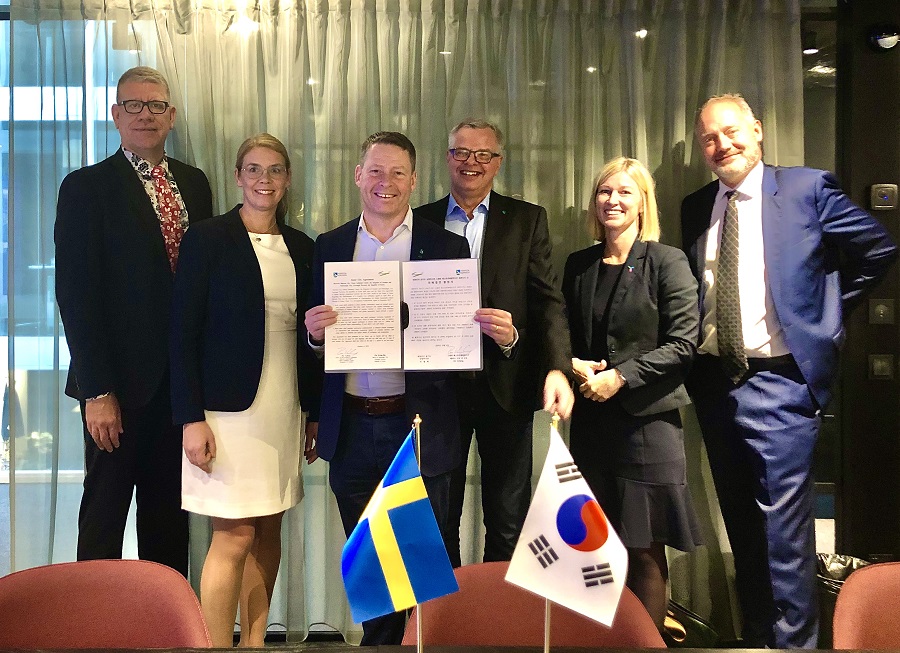 Text:
Härryda municipality in Sweden, home of IASP member Landvetter Södra, has recently signed a "sister city" agreement with the South Korean city of Namyangju.
In Namyangju, a third new city is being developed in the Wangsuk District while in Härryda, the urban development project Landvetter Södra is under way, implemented by its subsidiary Landvetter Södra Utveckling AB. There are several similarities in the projects and the cities will now collaborate closely, with a first in-person visit planned for spring 2021.
Landvetter Södra will build a whole new sustainable society from scratch, developing a city that is modern, international and human and where plans include 10,500 dwellings with space for 25,000 inhabitants. With access to the talent pools of nearby Gothenburg and Borås, it offers opportunities to use the latest technology and build for 'tomorrow's values'​ and ideals.
In view of the ongoing pandemic, a digital signing ceremony was held with a limited number of attendees present, including Per Vorberg, Chairman of the Board of Härryda Municipality and Jakob Hallgren, Sweden's Ambassador to South Korea.
"Both cities have similarities in that each city runs projects for a new city, where we discovered countless opportunities to collaborate in sustainable urban development and mutual exchange of officials for knowledge exchange. We are trying to overcome the COVID-19 pandemic together through these exchanges," said Namyangju Mayor Cho Kwang-han.
The sister city agreement with provides opportunities to lay the foundations for international collaborations and a platform to exchange of human and material resources and collaborative projects in various areas such as administration, economics and sustainable and innovative urban development.
"We are very much looking forward to being able to exchange experiences with Namyangju. They are very far ahead digitally and we have, among other things, a well-developed work with Agenda 2030 and innovative solutions for sustainable urban development in Sweden, areas we hope to collaborate within," commented Maria Ådahl, CEO of Landvetter Södra Utveckling AB.
To find out more about Landvetter Södra and their development plans, please visit their website http://landvettersodra.se/ (in Swedish) or LinkedIn page for an overview in English.