Parque Científico Tecnológico de Pando
Background information
Pando Science and Technology Park (PCTP), which was founded in 2008, is a public STP that connects business with science in order to increase innovation and improve competitiveness in national and international markets.
Its mission is to foster, manage and coordinate the setting up of private and public organizations involved in the performance of technology-driven productive activities and the provision of scientific or technological services.
Biotechnology is the key sector at PCTP, with a focus on immunodiagnostics, and its work has made it possible to develop and introduce in the market diverse diagnosis kits (toxoplasmosis, hydatidosis, pregnancy, C-reactive protein, and rheumatoid factor). Other focus areas include fine chemistry, environmental analysis, food & nutrition, nanotech, biopharmacy and pharmaceutical technology, bioanalytics, renewable energy, and sensometrics and consumer science.
Infrastructure includes the "Ceibo" building for training activities and flexible modules of 50 square meters for R&D related companies and institutions to set up. There are also 16 plots available for technology-based companies to set up, which vary in size from 1,000 to 4,500 square meters; 8 office buildings and 10 laboratories.
The projects of PCPT companies are mainly developed by the professionals of the Pando Technology Pole, located on the same site. The Pando Technology Pole works under the scope of the School of Chemistry of the University of the Republic in the research and development of chemicals and biotechnological products. It is dedicated to the creation and improvement of products and processes that have a direct impact on the quality of life.
Logo: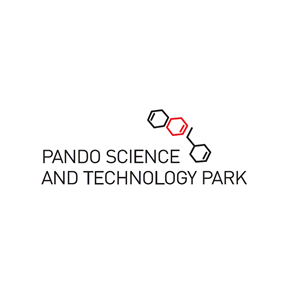 Name

Parque Científico Tecnológico de Pando

Main technology sectors

Name:

Chemistry and Chemicals

Name:

Health & Pharmaceuticals

Name:

Micromachines and Nanotechnology