Title:
ANPROTEC Annual Conference
Conference theme
Innovation Environments 4.0: Challenges and Opportunities of the Digital Revolution
First image: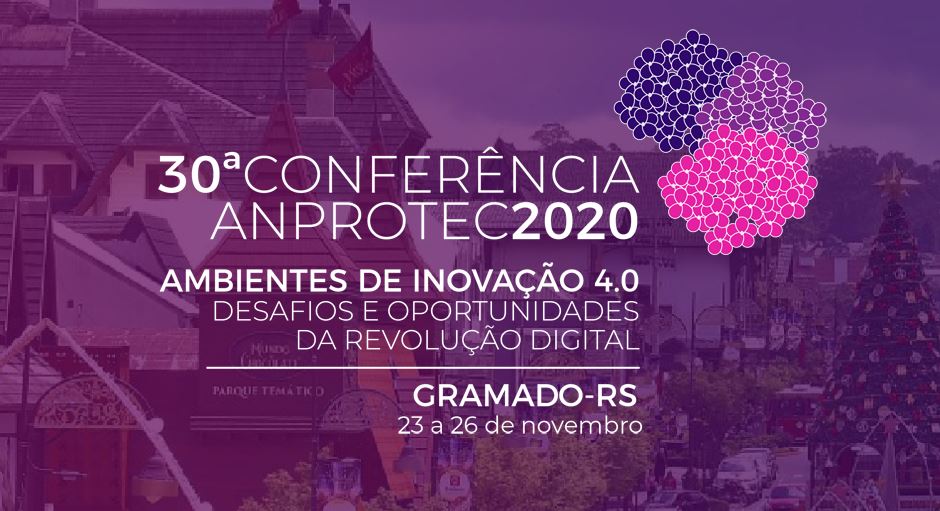 Notes:
The theme of the 30th Anprotec Conference on Entrepreneurship and Innovation Environments seeks to discuss the importance of new technologies arising from Revolution 4.0 in a scenario of constant transformation and global competitiveness.
Such technologies are used for automation and data exchange and use concepts such as cyberspace, internet of things, big data, artificial intelligence, and cloud computing. Revolution 4.0 facilitates the vision and execution of smarts cities and factories, while presenting new technical and structural challenges for companies and innovation environments.
In the scenario of instability in which we live in recent years, in Brazil and worldwide, it is very important that innovation environments are attentive to the adoption of flexible and open models, so that they can attract high potential projects, reinventing themselves, whenever necessary, given the current challenges imposed by new technologies.
Organiser

ANPROTEC - Brazilian Association of Science Parks and Business Incubators