Title:
Meet full member peers who joined us this summer
First image: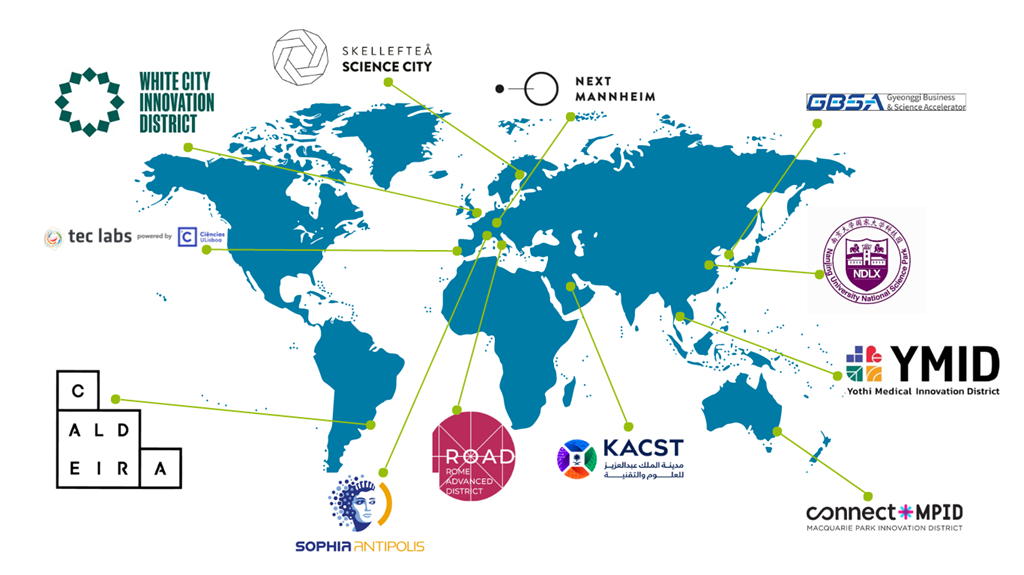 Text:
July and August 2023 have been busy months at IASP, where we have welcomed a number of new full members to the association:
Sophia Antipolis Technology Park, France
As one of IASP's founding members in 1984, Sophia Antipolis has been a significant player in global technological innovation for 50 years. Located in the French Riviera, the technopole boasts a unique urban design that harmonizes with its natural surroundings and is home to over 2,500 companies and researchers from more than 80 countries. Specializing in cutting-edge fields such as AI, biotechnology, and autonomous vehicles, the park also hosts multiple Mixed Research Units and one of France's Interdisciplinary Artificial Intelligence Institutes, 3IA Côte d'Azur.
Welcome back, Sophia Antipolis: your return enhances the collective strength and diversity of our IASP community.
King Abdulaziz City for Science and Technology (KACST), Saudi Arabia
Specializing in the sectors of energy, environment, and health and pharmaceuticals, KACST is committed to advancing industrial development in Saudi Arabia by supporting innovation and scientific research. They have established strategic objectives influenced by tradition to foster scientific research and technological growth across 15 critical sectors.
In their quest to shape Saudi Arabia's future, KACST has built international partnerships, boasting 14 joint centers worldwide. Their Technology Leaders Program aligns with Saudi Arabia's Vision 2030, offering a platform for local researchers to make an impact on a global scale.
Welcome to the IASP community, KACST Science and Technology Parks: your inclusion enriches our global network of innovation hubs.
Rome Advanced District (ROAD), Italy
Situated on a historic energy hub in Italy's capital, ROAD has been transformed into a thriving center for sustainable innovation, inviting a diverse mix of public and private stakeholders. Spanning 13 hectares, ROAD aims to act as a dynamic business network specializing in the creation of new intellectual property and green job opportunities.
ROAD is not just a workspace but a vision for the future, concentrating on sustainability, circular economies, and smart city solutions. Collaborating with startups, universities, and SMEs, ROAD envisions itself as a melting pot of talent and an epicenter for cutting-edge research. They're committed to constructing a unique ecosystem where experts from various fields - engineers, designers, natural and social scientists - can come together to devise solutions for a more sustainable tomorrow.
Welcome aboard, ROAD: your focus on sustainability brings a unique flavor to our global innovation network.
White City Innovation District, UK
Based in London and established in 2017 through a collaborative effort between the London Borough of Hammersmith & Fulham and Imperial College London, the district serves as an expansive, 8-square-kilometer canvas for both budding entrepreneurs and seasoned innovators.
Operating under the guiding ethos of "making tomorrow today," White City Innovation District is dedicated to fostering lasting employment opportunities, crafting a sustainable future, and nurturing a vibrant live-work community. It's an ever-evolving hub that combines STEM innovation with media and creative sectors, aiming to be both an economic and cultural heartbeat in London. This year alone, the district will see the northward expansion of Imperial College London's School of Public Health and welcome the headquarters of global giants like L'Oreal. With its comprehensive growth plan and multi-sectoral approach, White City Innovation District adds a unique blend of enterprise and creativity to our global network.
Welcome to the IASP family!
Joining us from Porto Alegre, Brazil and located in a historical industrial complex that once housed European boilers, Caldeira Institute has evolved into a bustling epicenter for innovation and collaboration, serving more than 400 organizations.
Focused on enriching the innovation ecosystem, the Caldeira Institute offers robust amenities including meeting rooms, event spaces, and coworking options designed to spur collaboration. It goes beyond infrastructure to actively promote community-building through professional matchmaking and interactive social events. On the educational front, CI champions talent development with unique programs like the Nova Geração Program and executive training initiatives. Committed to fostering startup growth without equity compromise, and in alliance with global consultancy Ernst & Young Associates, CI aims to be a cornerstone in equitable, sustainable innovation both locally and internationally.
We're delighted to have such a multifaceted member join our ranks!
Skellefteå Science City, Sweden
Established in 2015, this science city is on a mission to turn Skellefteå into a global front-runner for green tech and advanced innovations, featuring groundbreaking ventures in energy, AI, E-mobility, and even gaming.
Working hand-in-hand with SISP, the Swedish Association of Science Parks and Incubators, Skellefteå Science City advocates for the evolution of knowledge-rich companies within an interactive innovation ecosystem. Utilizing the Triple Helix model, they serve as a linchpin for collaborations among academia, business, and public authorities. A case in point: they're instrumental in launching Europe's first large-scale lithium-ion battery factory, highlighting their dedication to sustainable entrepreneurship. With a dual focus on green energy and the burgeoning regional gaming industry, they represent an exciting amalgamation of sustainability and business diversification.
We couldn't be more excited to include their diverse expertise in our network!
Nanjing University National University Science and Technology Park, China
Established in 2001 and endorsed by China's Ministry of Science and Technology and Ministry of Education, the park is a cornerstone in Nanjing University's quest for "Double First-Class" distinction. This innovative institution bridges academia, industry, and government, creating a thriving ecosystem for scientific and technological advancement.
Strategically located across multiple sites, the park plays an instrumental role in the economic revitalization of Jiangsu Province and Nanjing City. From crowd-creation spaces to incubators and accelerators, it offers an extensive range of support for science and technology enterprises, enabling the transformation of innovative ideas into market-ready solutions. With its governance committee ensuring alignment with the university's broader goals, the park is well-poised to continue its crucial role in translating scientific research into real-world impact.
Welcome aboard, Nanjing University National University Science and Technology Park; we're excited to see the incredible contributions you'll undoubtedly make to the IASP community!
Gyeonggido Business & Science Accelerator (GBSA), South Korea
Founded in 1997, Gyeonggido Business & Science Accelerator GBSA has cemented its position as an indispensable part of South Korea's bustling startup ecosystem. With a vast array of facilities that include startup and biotech incubators, as well as an advanced technology research center, GBSA offers an all-encompassing platform for small and medium-sized enterprises (SMEs).
Through tailored mentoring, meticulous business planning, and strategic funding support, GBSA is especially committed to boosting specialized industries like biotech, robotics, smart manufacturing, and environmental technology. Moreover, GBSA is instrumental in the development of Pangyo Techno Valley, an expansive R&D complex that epitomizes Gyeonggido's dedication to innovation across various tech sectors. With its commitment to facilitating both technological and human capital growth, GBSA promises to be a dynamic addition to the IASP community.
Welcome aboard!
Welcome also to Tec Labs, the business incubator hailing from Lisbon, Portugal, and affiliated with Faculdade de Ciencias ULisboa. Nestled strategically near Lisbon Airport and the city center, Tec Labs is a hotspot for interdisciplinary innovation, boasting specialized lab spaces and a robust growth rate in projects since 2020.
From its ScienceIN2Business® methodology to global partnerships, Tec Labs serves as a linchpin connecting academia and industry. Particularly notable is BioLab Lisboa, a collaborative venture that's generated over 50 biotech jobs and numerous successful spin-offs. Tec Labs' unique blend of innovation, strategic location, and collaboration makes it a fantastic addition to the IASP family.
Welcome to the IASP family, Tec Labs!
Yothi Medical Innovation District, Thailand
Yothi Medical Innovation District is a pioneering initiative backed by multiple ministries and regional alliances in Thailand. As a focal point for healthcare innovation, this sprawling 1.7 million square-meter district embodies Thailand's commitment to modernizing healthcare in alignment with its 4.0 plan.
Yothi District serves as a dynamic nexus for medical research, education, and innovation, inviting startups, investors, and developers into its collaborative ecosystem. With a strong focus on evidence-based healthcare solutions, the district is carving out a transformative path for the future of medical standards, both domestically and beyond.
We're thrilled to have Yothi Medical Innovation District as a part of the IASP network. Welcome to the community!
Connect Macquarie Park Innovation District (Connect MPID), Australia
Located in the Macquarie Park area of Sydney, Australia, Connect MPID exemplifies a harmonious blend of academic vigor, entrepreneurial spirit, and forward-thinking governance. Operating under five distinct pillars—ranging from strategic investment to community engagement—this innovation district serves as an archetype of Australia's potential for collaborative progress.
With the guidance of its diverse Board of Association, Connect MPID aims to redefine what an innovation hub can be, bringing together universities, startups, and global headquarters to foster a thriving, integrated community. Its commitment to innovation and strategic development makes it an exciting addition to our network.
Welcome aboard, Connect MPID!
An umbrella brand under which the city of Mannheim consolidates and propels various activities in startup ecosystems, cultural urban development, and international networking, NEXT MANNHEIM is home to eight specialized startup centers. The hub is a lifeline to over 300 fledgling companies, serving as more than just a communal space: it acts as a pivotal accelerator for startup growth both nationally and internationally. Equipped with an optimal infrastructure that encompasses mentorship, funding, and 30,000 square meters of subsidized workspace, NEXT MANNHEIM is committed to providing its expansive network of over 1,200 members with invaluable resources and relationships.
NEXT MANNHEIM also explores cultural innovation and the creative economy, emphasizing the importance of interdisciplinary approaches to community projects. Each year, the organization offers guidance to more than 600 aspiring entrepreneurs, many of whom choose to plant the seeds of their ventures directly within this fertile environment.
With such a multidimensional approach to innovation and community development, we are excited to extend a hearty welcome to NEXT MANNHEIM, as it joins our distinguished global network of innovation districts!
---
Please join us in welcoming these new full members to our association, and join us in Luxembourg to see them and other new members who joined since IASP Seville recognised during a special new members ceremony on 14th September!