Title:
New innovation district plans unveiled in Richardson
First image: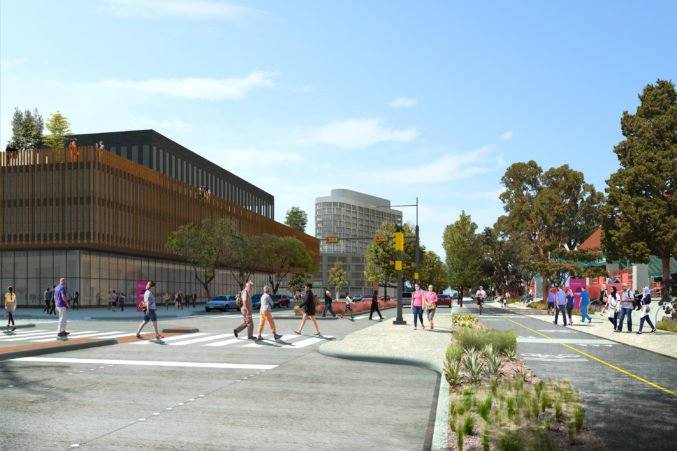 Text:
The city of Richardson (USA), home to IASP member the Telecom Corridor of Richardson - RCC recently joined the Better Block Foundation to throw a party to raise the profile of a burgeoning neighbourhood.
Inside what's for now being called the Collins/Arapaho Transit-Oriented Development and Innovation District—a place filled with generally uninviting, aging, one-story manufacturing buildings—workers trotted out food trucks, brought in live music, and invited anyone who works in, lives in, or visits the area.
The block party served as a preview of what the city wants this area to become. It was held behind the buildings on grass, where temporary bridges brought together both sides of a stream that has long split the development and chairs and picnic tables added some life to the green space. Employees have been known to walk around the area's many parking lots after lunch for exercise, but at the block party they discovered plans for a new trail that will weave back and forth across the stream.
Among the efforts, the Richardson is pushing to redevelop massive parking lots that sit adjacent to the Arapaho Center DART Station, rethinking that station as a multi-use entry point to the district.
Greenville Avenue, which runs by the station, will have lanes taken out, pedestrian touches put in, and a wide bike lane added, likely to be set off from the street with a median. Doug McDonald, planning projects manager at the city, says he's already getting calls from developers aware that these walkable spaces will offer increased value for money.
Richardson mayor Paul Voelker has been talking about the district as a response to the Amazon craze—investing in 1,000 small companies in hopes that one becomes the next giant. "That's what he sees this area as being," he says. "A place where we can really start growing small businesses to stake their ground here in Richardson."
Learn more about the Richardson Telecom Corridor.