Title:
Seeking environmental solutions to save the world!
First image: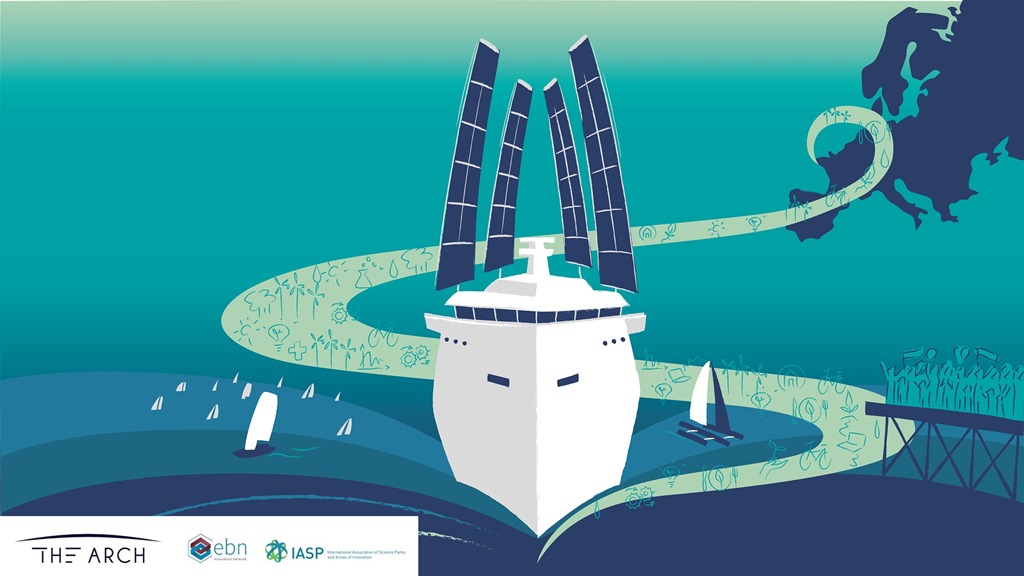 Text:
IASP is proud to be participating in The Arch project, a maritime adventure in search of the best 100 solutions to accelerate the green transition!
A racing boat will sail around Europe to symbolically take on board the environmental solutions shared by innovative startups, scaleups and SMEs, taking them first to Nantes and Saint-Nazaire (France) to participate in a European exhibition, and then on to the European Environment Agency (EEA), the EU body responsible for environmental innovation, in Copenhagen, Denmark.
The boat will set out from Copenhagen, making its way to Gdansk (Poland), Gothenburg (Sweden) Hamburg (Germany) Cork (Ireland), Lisbon (Portugal), Malaga (Spain), Toulon (France), Genoa (Italy) and Athens (Greece) before heading on to Nantes St Nazaire in France for a public exhibition. A huge welcome is expected in each port of call, with presentations of each of the green solutions on board bringing valuable visibility to the entrepreneurs and companies.
When the Nantes St Nazaire exhibition closes, the 100 solutions will board a bigger vessel for the final leg of the journey to Copenhagen: the wind-powered cargo ship Canopée developed by Atlanpole company Zephyr et Borée. During the voyage they'll participate in an entrepreneurial forum and learn from eco-business mentors aboard, before they reach Copenhagen and hand over the solutions to the EEA.
The Arch is looking for companies with green solutions that:
Are innovative and not yet launched on the market
Have a solid technological foundation that has been scientifically validated
Can show a viable business model and scaleup potential
The call for solutions is open until 31st October 2022. A qualified and independent European jury will then select 100 innovative solutions for this novel tour of Europe, which will set sail in spring 2023.
IASP's European members will play a key role, in both looking for the environmental solutions as well as some playing host to the boat as it calls into ports on its way around Europe. Science parks, areas of innovation and business incubators are the ones who really know the companies based in their locations, and are the best placed to identify the best startups, scaleups and SMEs and encourage them to apply. Project partner EBN will do the same with their members.
Participating IASP members include Lindholmen Science Park, Johanneberg Science Park and Sahlgrenska Science Park in Sweden; Gdańsk Science and Technology Park and Pomeranian Science and Technology Park in Poland; LISPOLIS, Madan Parque and Tecparques in Portugal; Málaga TechPark and APTE in Spain; and Attiica Technology Park "Lefkippos" in Greece.
To submit a solution, please visit http://newsurveys.iasp.ws/index.php/755643?lang=en