Title:
Strengthening the European Innovation Ecosystem via the enhanced involvement of STPs and AOIs
Billede: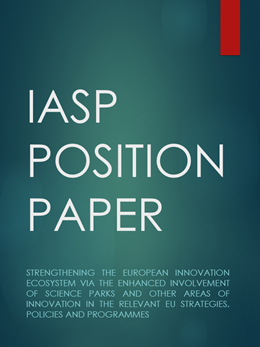 Authors

FullNameWithTitle2:

International Association of Science Parks and Areas of Innovation


Publication date

April 2020
Description:
Free download
In this position paper, IASP and its European Division expresses its appreciation for the ambitious European Innovation Ecosystem concept, within the EU's Horizon Europe, and in particular for the European Innovation Council's initiative "Enhanced EIC pilot". The goals of this initiative —To support top-class innovators, startups, small companies and researchers with bright ideas that are radically different from existing products, services or business models, are highly risky and have the potential to scale up internationally— closely reflect the work that our members do on a daily basis. This initiative is timely and necessary, and aims at kickstarting the task of transforming a huge European potential into action and results.

The position paper describes in detail how IASP and its members can increase their support for EC and EIC plans to enhance our common innovation potential.