Title:
IASP publishes new study of Latin American STPs and AOIs
First image: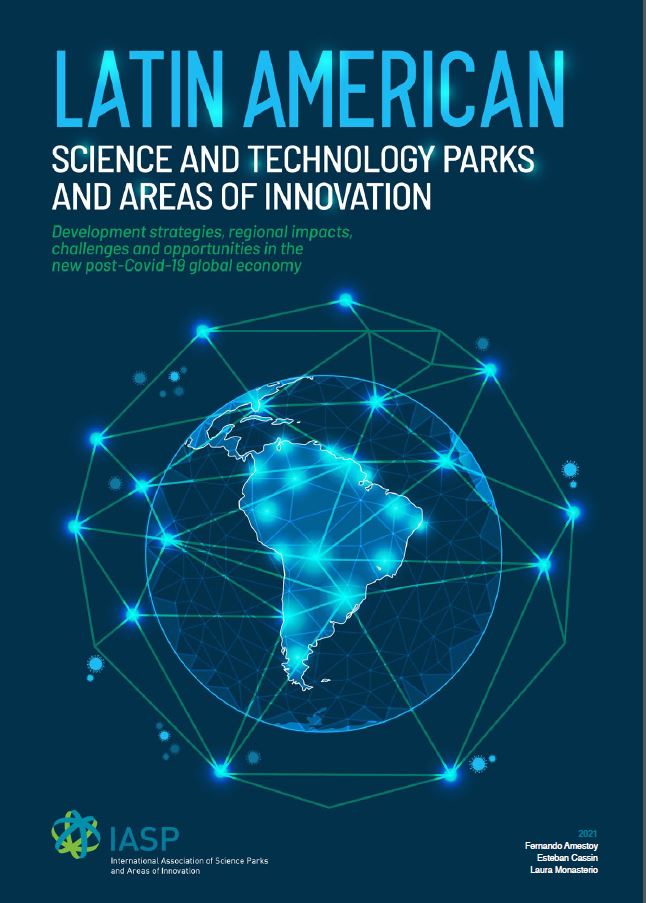 Text:
IASP is proud to announce the publication of a new study into Latin American science and technology parks and areas of innovation, covering their development strategies, regional impacts, challenges and opportunities in the new post-Covid-19 global economy.
Based on data contributed by members of the IASP Latin American division and follow-up interviews, the study includes their historical background, an analysis of their development process and the environmental conditions in which they were established, as well as their mission and founding objectives.
Written by Fernando Amestoy and Esteban Cassin in collaboration with IASP, the study identifies the main drivers for the development of these organisations and evaluates their successes. It also discusses the methodological approaches used to create rankings and to make comparisons across regions or continents, and shares preliminary findings about the impact of the pandemic on Latin American STPs/AOIs, and the strategies adopted to mitigate or overcome the crisis.
The research indicates that the pandemic has demanded greater innovation in business models from STPs and AOIs: teleworking and social distancing, combined with the economic downturn, has seen lower demand for rented space, and its importance as a primary source of income has declined. Adaptive strategies have needed to focus on the networking strengths of STPs/AOIs by enhancing their role as local connectors to global innovation systems. In many cases, their sophisticated business models and/or their links with companies related to Industry 4.0 or Biotechnology have allowed them to respond to demands for new services to mitigate the crisis.
Findings also indicate an improvement in the public perception of the importance of science and technology in Latin America, which represents an opportunity to improve their positioning on the political agenda. Another vital aspect highlighted during the interviews was the need to go beyond the physical space where the STPs are located in order to become key players.
You can read the full report in the IASP Knowledge Room