Title:
Statistics and insights into our industry
First image: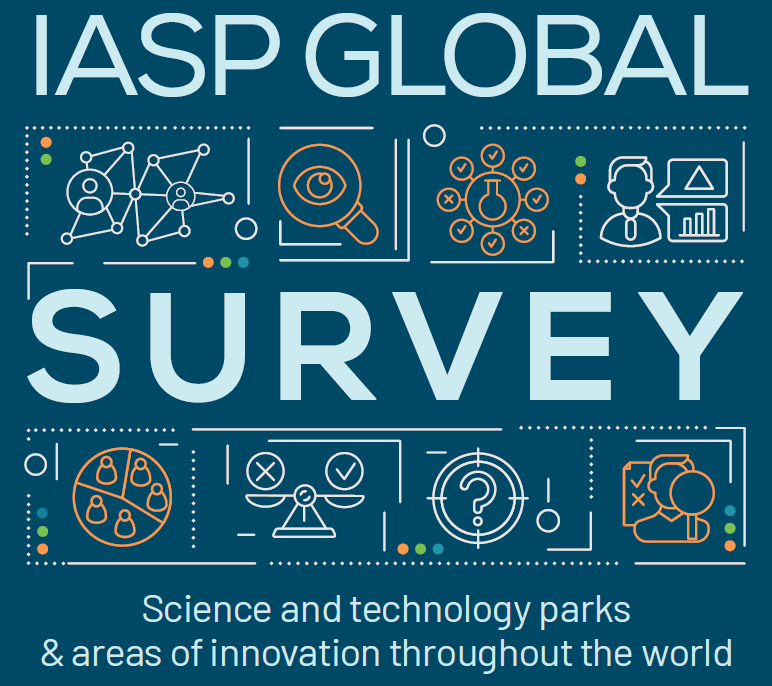 Text:
IASP is pleased to announce the release of our latest Global Survey, a comprehensive report on the current trends in our industry. The data was gathered over the course of 2021, with 113 science parks and areas of innovation from 47 countries responding. The final publication includes more than 100 charts and tables that give insight into the key trends in the AOI/STP industry.
The survey analyses extensive data provided by IASP members, with key changes noted from the previous 2018 edition. Also featured in the publication is a comprehensive analysis on specific regional trends, ownership structures and organisation ages, highlighting the wide range of models amongst IASP members.
Exclusive for this edition is a bumper chapter on the effects of COVID-19 on our industry. It explores the ways in which AOIs/STPs adapted, support they gave to resident companies and the ways in which management teams adjusted, and the economic impact of the pandemic. Respondents were also asked about their future expectations, with a resounding 95.6% anticipating stability or growth for the future, something which highlights the strength and adaptability of the industry.
The Global Survey also looks at AOI/STP infrastructure, governance, funding, specialisation, services, companies, and much more. We hope it will allow AOI/STP managers to better understand the evolution of the industry, benchmark their organisation against global trends and perhaps even provide inspiration for changes they could make in their own organisation.
The Global Survey is available from the Knowledge Room, and IASP full members will receive their complimentary copy soon - keep an eye on your inbox.