Title:
The IASP webinar programme 2018
First image: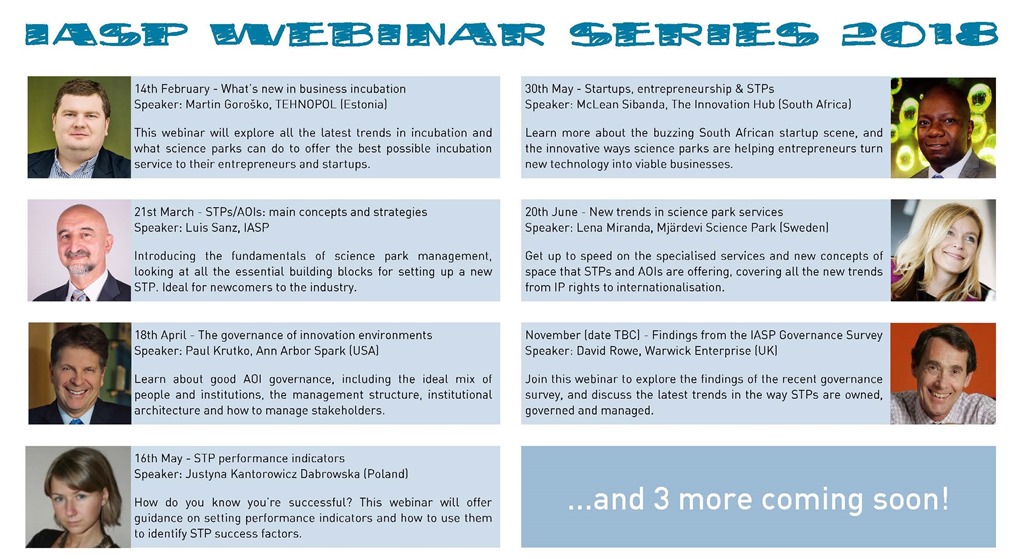 Text:
IASP is delighted to announce details of our 2018 webinar programme, where 10 science park and area of innovation experts from around the world will share their knowledge and insights.
Our short online seminars are a great way to learn from your peers without leaving your desk: we all like to meet in person, but for when we don't have time to travel, IASP webinars are here to fill the gap.
This year's programme includes:
14th February - Martin Gorosko, Tehnopol: "What's new in incubation": This webinar will explore all the latest trends in incubation and what science parks can do to offer the best possible incubation service to their entrepreneurs and startups.
21st March - Luis Sanz, IASP: "STPs/AOIs: main concepts and strategies": Introducing the fundamentals of science park management, looking at all the essential building blocks for setting up a new STP. Ideal for newcomers to the industry.
18th April - Paul Krutko, Ann Arbor SPARK: "The governance of innovation environments": Learn about good AOI governance, including the ideal mix of people and institutions, the management structure, institutional architecture and how to manage stakeholders.
16th May - Justyna Dabrowska, PhD: "STP performance indicators": How do you know you're successful? This webinar will offer guidance on setting performance indicators and how to use them to identify STP success factors.
30th May - McLean Sibanda, The Innovation Hub "Startups, entrepreneurship and STPs": Learn more about the buzzing South African startup scene, and the innovative ways science parks are helping entrepreneurs turn new technology into viable businesses.
20th June - Lena Miranda, Mjärdevi Science Park: "New trends in STP services": Get up to speed on the specialised services and new concepts of space that STPs and AOIs are offering, covering all the new trends from IP rights to internationalisation.
November - David Rowe, Warwick Science Park: "Findings from the IASP governance survey": Join this webinar to explore the findings of the recent governance survey, and discuss the latest trends in the way STPs are owned, governed and managed.
And three more coming soon!
You can purchase individual webinars or you can benefit from our flat fee which makes it simpler to participate and includes all 2018 IASP webinars. If you are a member you just need to log in for your member discount. Visit the IASP Knowledge Room for full details or contact communication@iasp.ws.